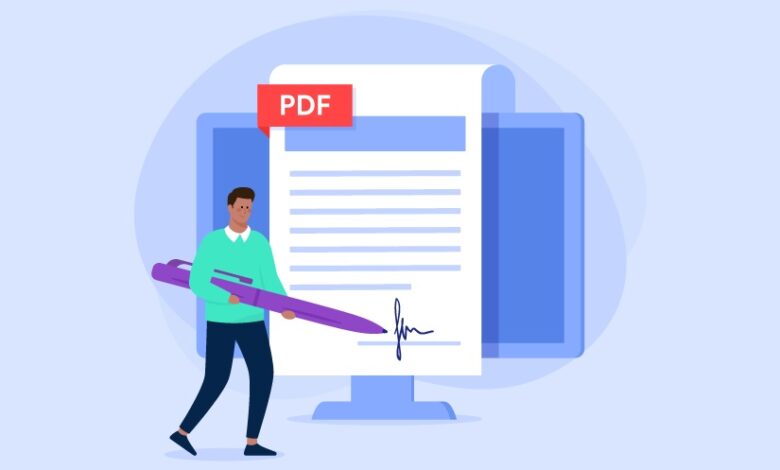 It is now possible to sign documents online, as more things are happening online than ever before. This brilliant strategy is made possible by web platforms that allow you to sign documents from anywhere.
You will, however, require the best examples on the market to accomplish this. If the results from a Google or Bing search are overwhelming, here is some information to helps you select the most formidable.
We've put up a list of ten websites for speedy PDF signing and dissemination. Let's take a look at what they are and why you should bookmark them.
Sign a PDF Quickly with CocoDoc
CocoDoc is one of the platforms that has revolutionised document signing. It's a website with a consumer interface and plenty of features and functions. The ability to sign PDF documents online is, of course, one of them.
How do you go about doing it? It's easy to comprehend, but we must first clarify what CocoDoc involves. The signing process begins with numerous methods of uploading the PDF to the website. You have the choice of drag & drop, selecting from your local storage, or uploading to the cloud.
Then you can utilise the signing option to insert your signature where it's needed. CocoDoc lets you create a digital signature if you don't already have one. You can type using your keyboard, draw with a mouse, or use your finger if you're on your phone. Touch screens are also useful since they allow you to utilise your stylus pen.
The e-signature is securely kept and encrypted after it is created. While that is all that is required to sign a PDF document online, what else does this platform have to offer? If more than one signature is required, you can share the PDF with others.
How? By sending the link via email, social media, or embedding the form on your website, you may help others find the form. CocoDoc also offers web integration. The best thing about sending emails is that they can be automatically. You can also edit the PDF in addition to signing it.
Text insertion, merging, adding input fields, checkboxes, and other features are all available. After sharing and having your PDF signed, the next logical step is to download and print it. CocoDoc, on the other hand, provides convenient and safe cloud storage for your files.
As long as you have access to the internet, you can retrieve your documents from anywhere. It is free to create a signature with CocoDoc and use it on a PDF. The website's security assures that no one may access your valuables without your password.
Agrello
This is a rapidly growing website with over 40,000 users worldwide. The rise in numbers is due to the ease with which you may create a signature and the protocols that ensure its security.
A signature is encrypted with both private and public keys after you produce it (with your finger or the keyboard). You're given a signature key, which you must keep because you can't remember the characters.
Links to your identity, signature, signing key, and date were used in the cryptography. Agrello validates signatures using ASIC standards, and you can obtain the information as needed.
Online PDF Signer
You can use any browser to access the Online PDF Signer and sign your PDF documents. All you have to do now is upload the document you want to sign, and the rest will take care of itself. You can upload from the cloud, your local storage, email, or enter the URL for the PDF.
Typing on a keyboard, drawing on a smartphone or tablet, or capturing a written signature with your webcam are all options for creating a signature. You can use it on documents and share it with others once it's accessible.
DocFly
The DocFly platform is another option to sign PDFs online. Because it is a website, it can be accessed from any internet-connected device. In addition to uploading a photo, you can draw or text your signature here.
All digital certificates and documents are encrypted using the HTTPS protocol. The security of the PDFs extends to Amazon cloud hosting, where they are stored. Because DocFly is accessible via the internet, you can view your files from anywhere, and the platform is always current.
Online PDF Writer
The Online PDF Writer, which is similar to the Online PDF Signer, is also available on the web. The services are also very similar, starting with the ability to upload PDFs via numerous methods.
That means you can receive the PDF from your computer, the cloud, your email, or by entering the URL of the PDF on a website. Signature can also be created using the available tools, such as drawing, uploading a photo, or typing on the keyboard.
Adobe Online
Adobe is very well as independent software that must be downloaded to your computer. If you don't want to sign with the hassle of downloading and installing, they also provide a free online signing service.
To get started, all you need to do is upload the PDF. If you need to make changes to the PDF, there are editing tools available. You can create a digital signature by adding your initials. After you've submitted the document, you may easily edit it and add your signature using the toolbar.
Soda PDF Online
It's easy to draw, write, or upload a signature and then use it on PDF documents with Soda PDF. You can sign up with your credentials or with 3rd accounts like Facebook, Google, or Microsoft.
Soda PDF uses the information collected to provide the best signature package for you. Adding emails to people who require the PDF is part of sharing. You can change, download, print, or mail to people concerned after they sign.
I Love PDF
This platform was born out of a love for working with PDFs. It's as simple as uploading the file and then completing the remaining steps. The website has a variety of tools to assist you in working on your PDF.
Drawing your signature or utilising a certificate-based digital ID are also options for signing. After that, you can add it to the PDF where it's needed. There are desktop and mobile apps available if you want to work on your files offline.
DigiSigner
You can submit the PDF you want to sign or other document types to the DigiSigner platform. Before utilising your signature, you can write, draw, or upload it here. Although there are no sharing options here, you can download the PDF after you've finished working on it.
Other tools are available to help you in altering your PDF as needed. Your data is destroyed after the session is ended, and the signatures are protected using the SSL encryption protocol. That means the hackers have no trail to follow.
PDF24 Tools
Finally, the PDF24 Tools web-based platform can assist you avoid scheduling signature meetings. You can upload your PDF and sign it on the online version. Drawing, typing, or uploading an image is all that is required to create an e-signature here.
Due to security reasons, the PDFs and your signature are not kept for long. However, there is no option to share your PDF with those who must sign it. That means you'll have to manually download and send it to people who require it. For individuals who prefer working on their pc, PDF24 Tools also has a Windows version.
Final Word
You now have a list of the best websites to assist you with a quick PDF signing process. Begin with CocoDoc to learn how it works and what else you can do with it. We support it since it makes the signing procedure more simple and allows you to keep documents.
The remainder are also ready to go, and the best part is that they all let you produce and use signatures in the most efficient way possible.