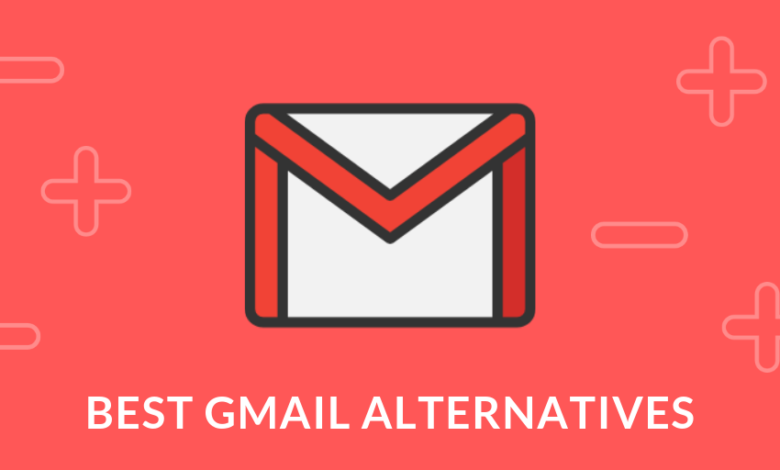 Gmail is the most widely used email service in the world due to its simple and user-friendly user interface and easy functions. When it comes to integrations, Google Workspace includes Calendar, Meet, Drive, Docs, and Sheets to meet all of your needs.
However, when it comes to data privacy and security, Gmail falls short. So, if you're looking for another email service provider for whatever reason, we've got you covered with the top Gmail alternatives listed below that won't let you down in terms of privacy.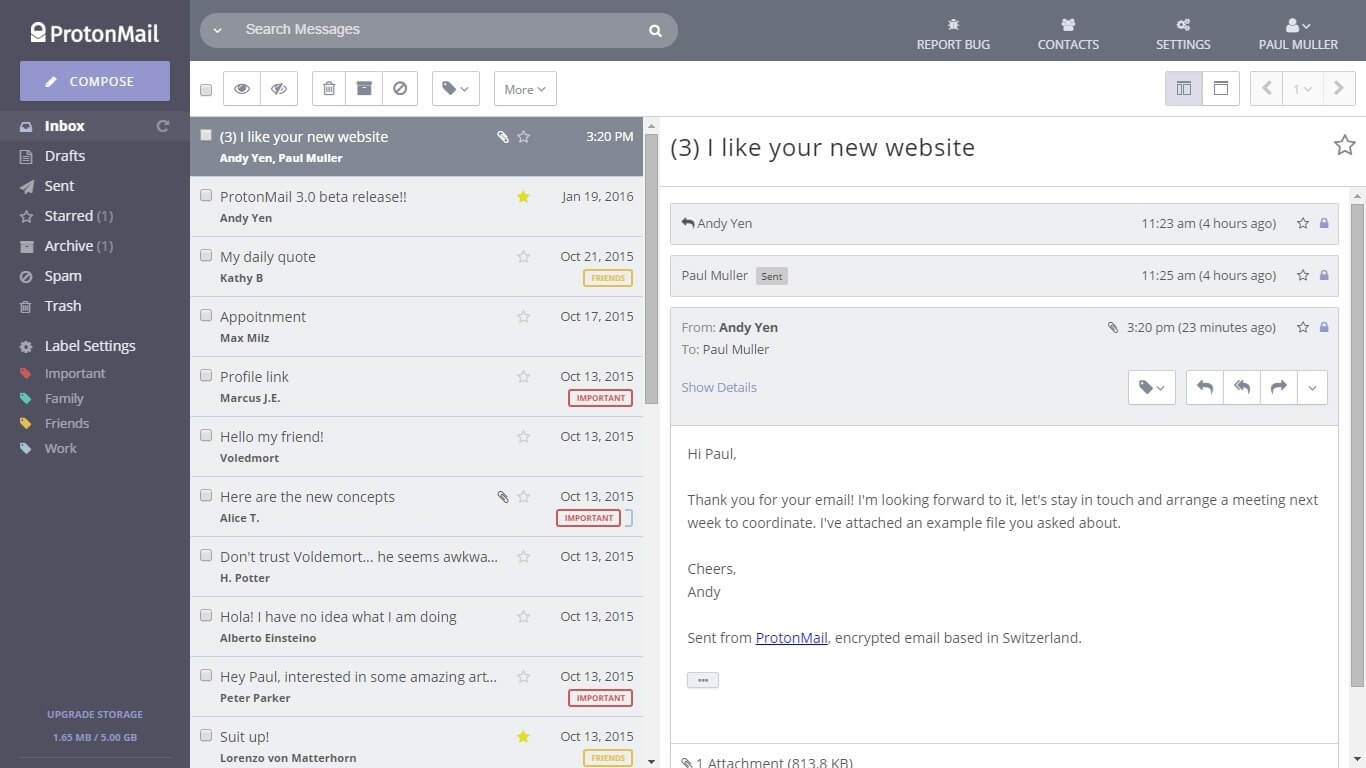 ProtonMail is a secure and user-friendly alternative to Gmail. It does not request any private information when creating an account and employs open-source encryption libraries with secure implementations of AES (military-grade encryption), OpenPGP, and RSA to protect your data.
It has both a paid and free version. The free version of this email client offers 500MB of storage with a daily message restriction of 150. Its paid edition, on the other hand, costs $4 per month and includes access to your domain, custom filters, and priority customer assistance.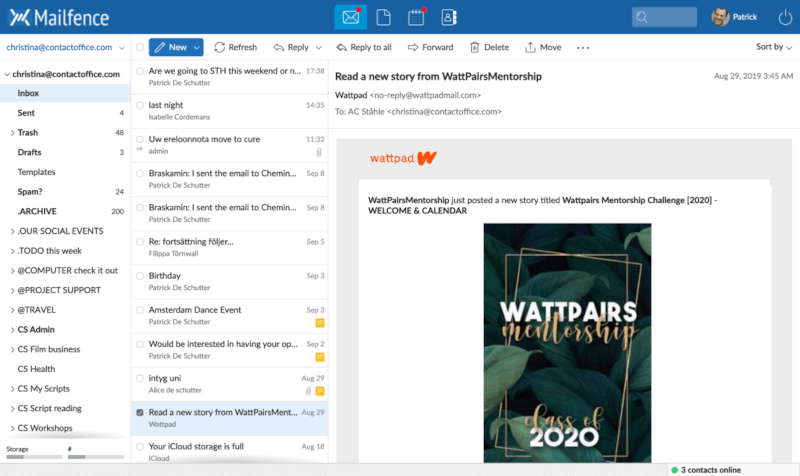 Mailfence is an encrypted email service provider that protects and secures your data. Log in to Mailfence with a valid email address for verification purposes and begin utilizing this mail service, which includes documents, calendar, and docs as integrated capabilities.
It focuses on blocking advertising and tracking while keeping your data safe from third parties.
Its free edition provides 500MB of storage space, while the paid version costs between 2.4 and 25 euros per month.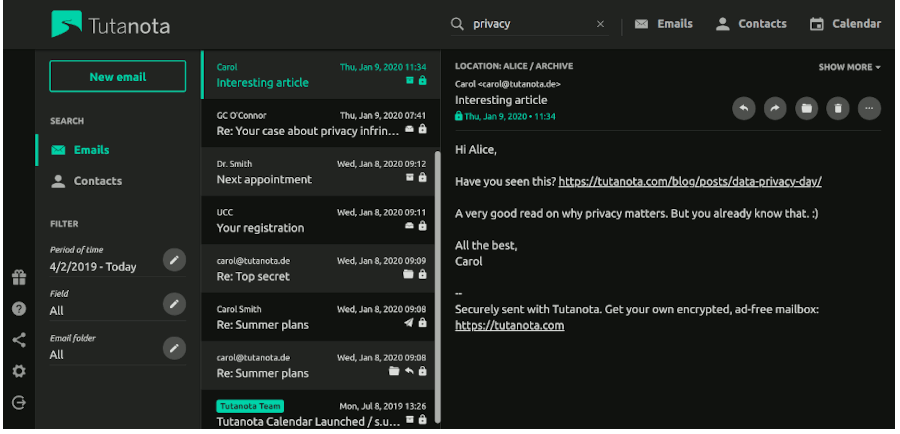 Tutanota is an open-source, encrypted email service that use E2E encryption to ensure data privacy. This ad-free service provider, like Zoho, conforms with GDPR and has an encrypted calendar for security considerations.
Its free edition offers 1 GB of storage, fewer search capabilities, and only one calendar. While its basic edition offers 10 GB of data storage, additional space can be obtained through various subscription plans.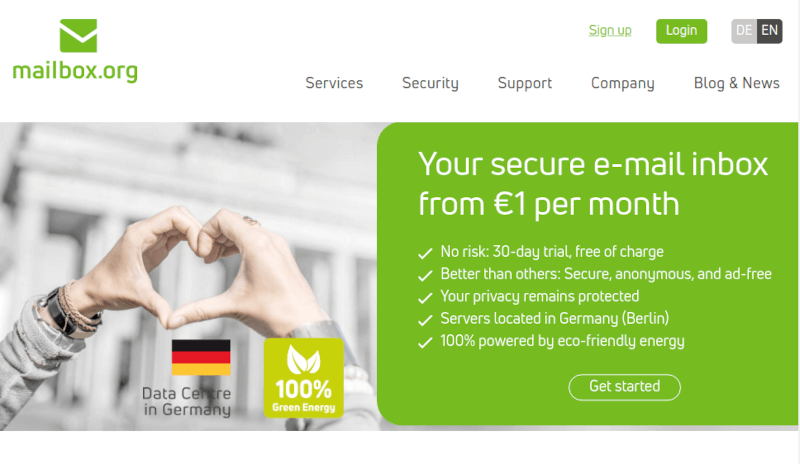 mailbox.Org is another German email service provider that is packed with features and prioritizes privacy. This email service provider has been in the market for a long time and provides consistent service. It allows you to sign in without entering personal information such as your phone number or address. You can even log in using Bitcoins, according to the business.
This service provider does not expose any information on the user's location, devices, or recipients. It is OpenPGP compliant and allows users to send encrypted mail to non-mailbox.org users while allowing them to react via throwaway links. The monthly pricing of this encrypted and ad-free email service provider ranges from one euro to nine euros.

Posteo is a German email service provider that allows you to log in without providing personal information such as your phone number or address. This ad-free email provider claims not to track users and joins the list of Gmail competitors that are serious about security.
Its free version has various limitations and only provides 200MB of storage space, as well as some additional capabilities such as email support with some providers, forwarding failure, address book, calendar encryption, and so on. However, with its paid edition, which is offered for a low monthly fee of one euro, you gain access to all of the functions.
6. Runbox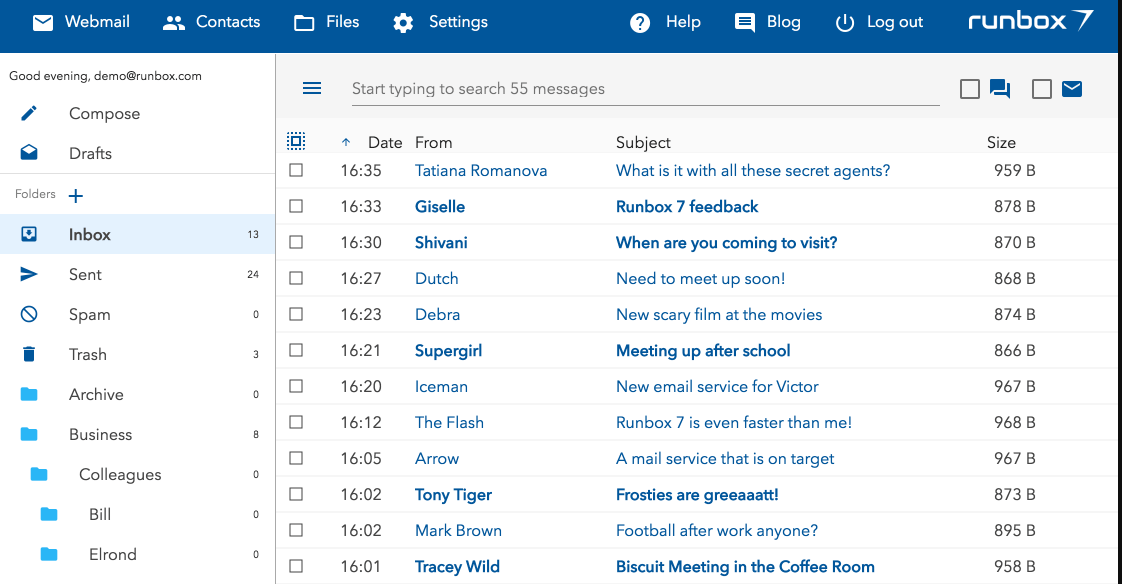 Runbox is a bespoke webmail interface that is protected by robust antivirus filters to keep your important data safe. It offers a sleek and clean interface with access to multiple modules via the top-of-the-screen menu bar. It is fully ad-free and does not track users' data.
Furthermore, it is compatible with email applications such as Apple Mail and Microsoft Outlook.
It has four distinct yearly plans: micro, mini, medium, and max, which cost $19.95, $34.95, $49.95, and $79.95, respectively.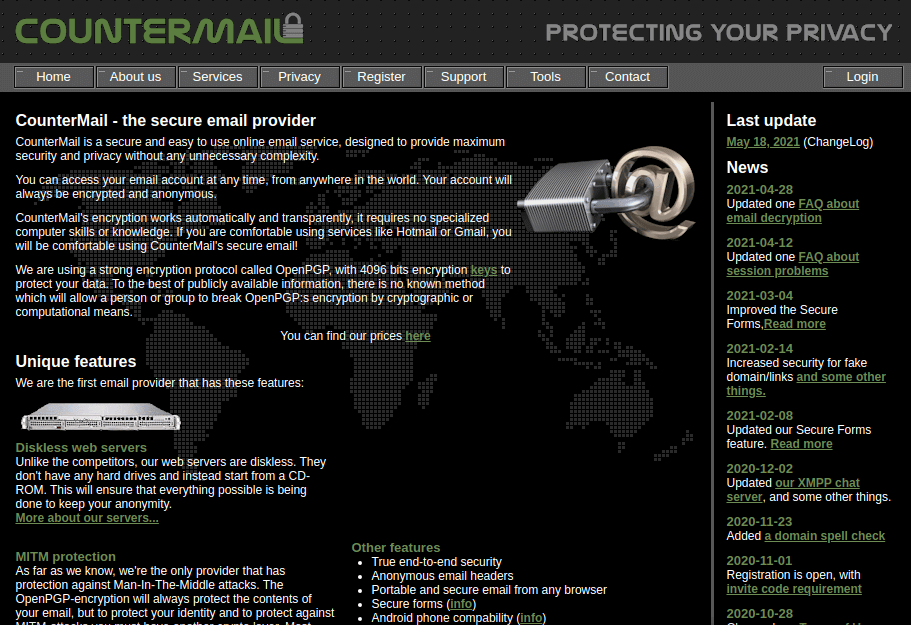 If you want an email service provider that is ahead of the curve in terms of privacy, go no further than CounterMail! To keep your data safe and secure, this secure email service employs OpenPGP encryption and 4096 encryption keys.
This service provider does not tacking and retains no log of user data, making it safe from hackers. To add additional layers of protection, it encrypts everything that can be encrypted.
8. CTemplar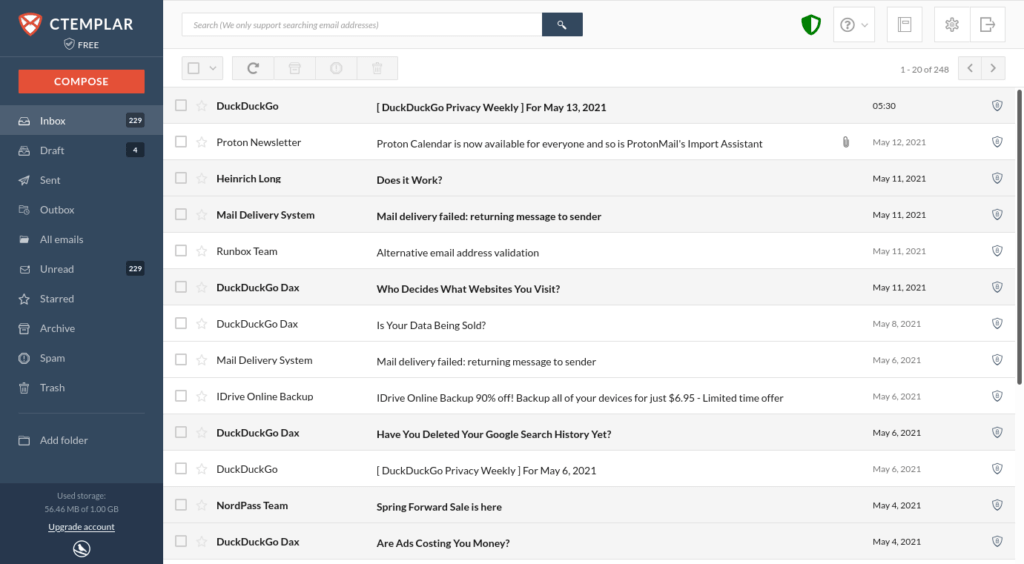 With CTemplar, you can be confident in the security of your data. This email service provider protects data with 4096-bit end-to-end encryption while remaining very simple to use.
The Seychelles-based corporation stores encrypted data on Icelandic servers that use zero access password technology, ensuring that no third party has access to it. Its free plan provides 1GB of storage space, while the champion plant, which costs $50 per month, provides 50GB of storage space.
Conclusion
If you're looking for a secure Gmail alternative, go no further than the 8 best Gmail alternatives listed above, which guarantee to keep your data private while also giving a simple interface to check your emails.