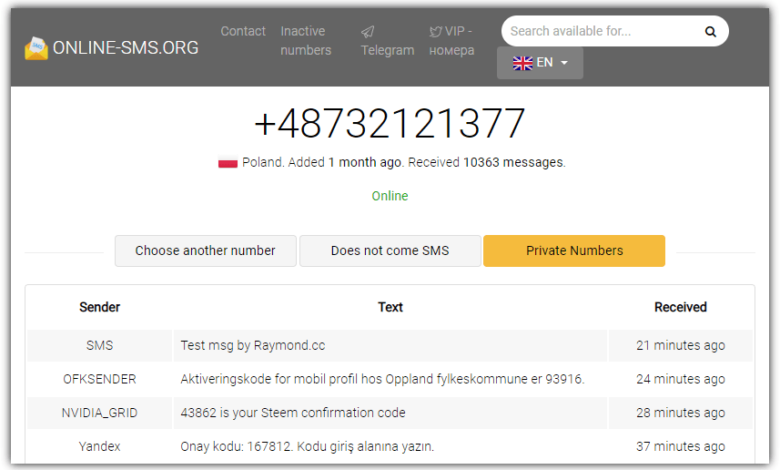 Many services and web apps on the internet rely on phone numbers for verification. When you create a new Google account, for example, you will be asked to verify your phone number.
This is done to verify the user's identity and prevent the spread of fake accounts. Not only does Google require a phone number for verification, but almost every web service and site does as well.
However, many users are hesitant to share their personal information on any website. This is due to the fact that few businesses sell your phone number to telemarketing firms to promote their products and services.
It also causes a slew of privacy issues.
As a result, if you value your privacy, it's best to avoid entering your personal contact information on any online website. You can receive SMS without an actual phone number by using free online SMS websites. When you sign up for these services, you'll be given a virtual phone number that you can use to verify your account.
This is a list of the top ten websites where you may receive SMS messages online.
So, in this article, we'll go through some of the greatest websites for receiving SMS without a phone number.
Let's take a look at the websites.
1. FreeOnlinePhone
One of the best websites for reading SMS is FreeOnlinePhone. The site provides you with eight different UK and US phone numbers by default.
It's a 100% free service that doesn't require you to create an account. It is, in general, the greatest platform for receiving SMS online.
2. Mytrashmobile
Mytrashmobile is still the finest website for receiving a verification code, despite not being the greatest. It offers three active phone lines from the US, Canada, and the United Kingdom.
The one disadvantage of Mytrashmobile is that all three numbers have been blacklisted by IT providers. That implies you won't be able to use such numbers to verify famous websites' accounts.
3. Textnow
Textnow differs from the other sites mentioned in this article in a few ways. It's for people who don't want their personal information shown in public. To receive a private number, you must first create an account with Textnow.
You can use a private number for SMS verification when you've obtained one. The free account, on the other hand, comes with a slew of limitations.
4. Textfree.us
Textfree is a VOIP provider on the list that gives you an actual phone number in the United States. It also includes a smartphone app for receiving and sending text messages.
You must use Textfree's web version if you wish to utilize it for SMS verification. The web version allows you to send and receive actual SMS via the internet.
6. Twilio
Twilio, on the other hand, is a little different from the others mentioned in the article. You can get a free private phone number if you join up for a trial account.
You must first validate your phone number in order to establish a trial account. The trick is to use one of the following services to receive SMS online, which will assist you in setting up a trial account. You'll be given a secret number to use for verification when you create a trial account.
6. Receivefreesms.com
Receivefreesms.com, as the name suggests, is another another excellent website for getting SMS online.
Receivefreesms.com has the advantage of providing you with a large number of phone numbers.
It also provides public phone numbers from nations such as India, the United Kingdom, the United States, Spain, and Belgium. The numbers, however, were prohibited on the majority of websites.
7. Receive-SMS.com
Receive-SMS.com, on the other hand, is another excellent site for receiving SMS online. Receive-SMS.com is unique in that it provides you with five distinct numbers to which you can send and receive messages.
There was no charge to use the numbers, but there was an issue. Popular websites such as Facebook, Twitter, and others do not work with the phone number. Additionally, while opening the inbox, it occasionally displays 403 errors.
8. MobileSMS.io
MobileSMS.io is one of the many attractive throwaway phone number websites available today. Phone numbers that are only active for 10 minutes are available on the site. The phone number can receive SMS within a 10-minute time limit.
The site is useful for online SMS verification codes. The site's number can be used to authenticate accounts on Twitter, TikTok, Instagram, Facebook, and other social media platforms.
9. FreePhoneNum.com
Another excellent website on the list is FreePhoneNum, which offers you with a temporary phone number. Website-provided disposable numbers route calls and texts to the user's own phone number.
With the free account, you can send up to 5 messages to any phone number in the United States or Canada.
There is also a free voice call service available.
10. Sellaite SMS
Sellaite SMS is one of the most popular virtual phone number websites available today. The website has been operating for a while and provides three different Estonian phone numbers.
The site's user interface appears to be a little out of date, but it still functions. To use the website's phone number, you do not need to register.
As a result, these are the finest websites for receiving SMS without a phone number online. I hope you found this material useful! Please pass it on to your friends as well. Please let us know if you know of any more similar sites in the comments section below.