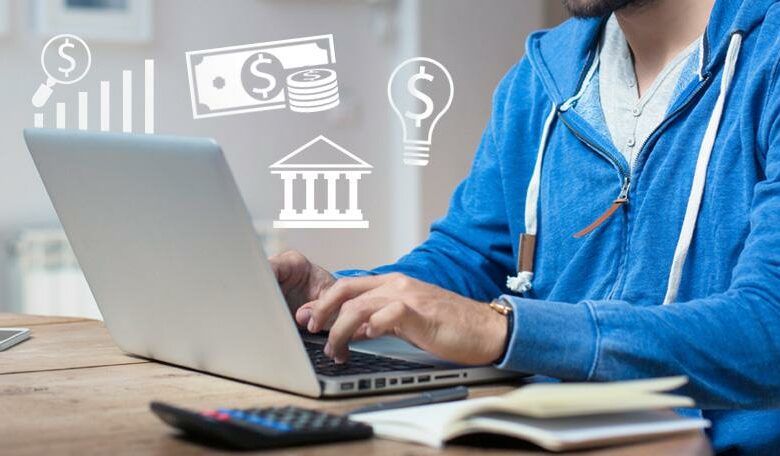 Personal finance software is not very expensive or difficult to use. In this latest time, to control your personal finance s difficult. Apps will do your work much easy, and these are some best apps for you working on your finances, and handling money is one of the sufficient work you can do for yourself and your family.
Yet, while many other concepts are not complicated, but your time and thinking are limited.
After all, not everyone can dedicate hours to learn, and not everyone loves spreadsheets either.
The digital improvements have given the world much personal finance software and apps to master your finances.
Now you'll crush the money basics, become more effective at financial plans, and will start to explore ways to reach your financial goals. The personal finance software is the ease and organization of everything you need. You get all the data in friendly, clean formats, plus they auto-pull info for you during your busy life.
 What Is your Personal Finance Software?
Personal finance software is programs generated to help every single person with their finance planings, investments, budgeting, and easily monitor and assess all their finances in one place. This software can make your finance issues much easier
Top 10 Best Personal Finance Software Options
In this article we are discussing about top 10 best Personal Finance Software Options updated in 2021, they are given below:
Clarity Money 
Personal Capital
Blooom
Credit Karma
Mint
Pocketsmith
Mvelopes 
You Need A Budget
Tiller 
Albert
Clarity Money 
Another best software for your finance all in one is Clarity Money. This is backed by Marcus by Goldman Sachs; by this, you can use this app free of cost. You can open high-yield savings account directly in the app and connects the account.
But this tool helps you to manage your expenses. You can easily transfer money in different accounts with the help of this app, and more this is specially organized tables and graphs to help you easily visualize your personal finances.
However, this tool can skip many other components that other apps are giving. But it might be worth giving it a shot to test for yourself.
Personal Capital
Personal Capital is a free financial management tool that gives you a complete overview of your money. The platform helps you track financial areas like your investments, cash flow, budget, and net worth in one location.
You can log in via their desktop platform or use the Personal Capital app for on-the-go discovery and financial monitoring. And those features are completely free to use.
If you have a portfolio of more than $100,000, you can opt for their personalized financial advice based on your goals. This is a paid feature, so there will be a fee for this service but not something you have to ever use, but worth noting.
Blooom
Seeing to optimize your 401k, find hidden fees, and more? Then Blooom is the best free tool to use. Blooom is a Robo-advisor that investigates your actual 401k and then optimizes it for you. It will automatically handle your retirement accounts for you.
Besides maintaining your company 401k, Blooom also can analyze and observe the health of your accounts.
The company also has a paid version that has anything for your finance management, and the paid version can offer you everything.
Credit Karma
You are well aware of Credit Karma by now, but if not, here is a little summary. Credit Karma is free of cost platform that allows you to see your credit reports and get information about your credit history.
Logging in does not affect your scores and gives you an image of what's going on in your personal credit history. Additionally, Credit Karma now offers a savings account.
I use Credit Karma often, and it has supported me to prevent some identity fraud damage as well. You get real-time warnings and resources to help you maintain a good credit score. There are tons of features, so I recommend checking out the site a bit further.
Mint
Mint is undoubtedly one of the most famous budgeting and expense tracking tools out there. When you log in to your account, you can get the Mint to pull in any bank and credit card information. This will help you check out your spending and the current picture of your money.
Mint allows you to set warnings for various things like if your balances are getting low or any upcoming bills to help keep you on track. And if you create any budget sections, Mint will give you real-time information.
Besides that, Mint also has investment tracking for your retirement accounts and help catch private fees.It doesn't do all the investment work for you, but seeing everything related to your finance in one place with a date is very beneficial. Mint is completely free to use on iOS and Android devices
Pocketsmith
I only recently came across PocketSmith but reading through the reviews and their website I became much impressed. This personal finance software allows you to connect all your accounts in one platform
But what makes this application different, is the ability to forecast where your accounts may go based certain outcome from your finances. You can connect to bank accounts, credit cards, investment accounts, and loans to your PocketSmith account.
Some cool features include live banking feeds, multi-currency tracking support, budgeting and keeping tabs of expenses, organize transactions, net worth, projected balances based on your financial habits, and much more.
The free version is quite basic but will give you a sense if PocketSmith is right for you. But if you want a lot of amazing features, you will have to upgrade to either their paid Premium or Super offerings.
Mvelopes 
Mvelopes is a personal finance software that uses "digital envelopes" to manage your expense and current budget flow.
The platform works in a few easy steps where you choose the economic goals that are most meaningful to you, then add your bank accounts and set your salary.
Mvelopes helps gain control over finances and help you recover income from secret spending. Gives your perspicacity into all of your accounts and sales and helps to reduce existing stocks and increasing savings.They have a 30-day free trial and three paid tiers with different features pending your needs.
You Need A Budget
It was one of the most popular finance software out there is You Need A Budget (YNAB). This software is to help you improve your economic literacy and master your own monthly budget.
Here's how YNAB works.
The software provides you with some steps that will help you tackle some of the tougher economic topics with your finances and budget.
It also automatically links to your bank account, combining your spending information for analysis and budgeting tracking.
Now you can keep tabs on how well you are doing on your monthly budget and can take action if you're overspending.
YNAB gives a 34 days free trial of this app. The full software is $11.99 per month and $84 annual if you pay upfront, which helps to save your money
Tiller 
Spreadsheets are a common form of money management but sometimes can be a challenging to organize. That's where Tiller gives it easier for you.
Tiller links to your checking, credit card, loan, investment, and other accounts and can pull from 20,000+ financial sources into a Google Sheet.
Here is where you can then perform your own calculations on the data and even download it into Excel. Or let Tiller handle it and have it auto-update templates that they have to organize your data.
Additionally, it'll also send you daily emails with a summary of your recent transactions and balances.The service costs $59 per year or $4.92 per month, but you can use the 30-day free trial first to see if it makes sense for your needs.
Albert
Albert is a trendy finance management software, and it is also free to use. (like Mint or Personal Capital. More below on them).
You sign up for all of your accounts, and it can then track your wealth, your account balances, and monitors your proportions, bills and spending.
They also gives some addional things they call Albert Savings, which is their automatic savings function
No fees
Free withdrawals
Up to 1% annual cash bonuses, just for saving
Albert analyzes your income and spending throughout the week, getting extra dollars to save automatically.