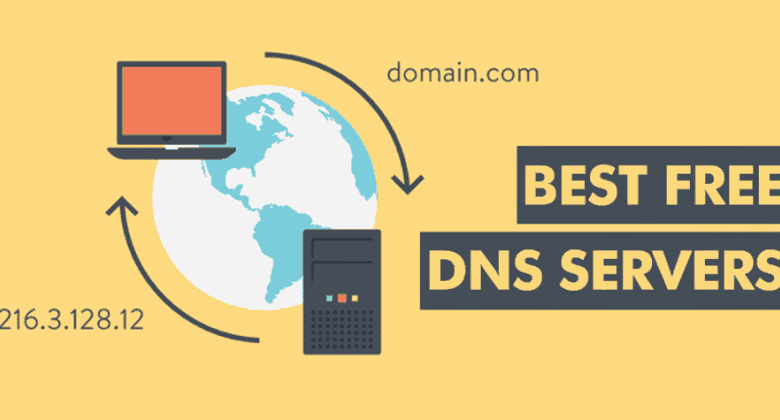 If we look around, we can see that practically everyone has access to the internet at home or at work. If you know enough about how the internet works, you've probably heard of DNS (Domain Name System).
The Domain Name System, or DNS, is a database that stores domain names and IP addresses.
When users type a domain name into a web browser, such as techviral.net or youtube.com, the DNS servers seek for the IP address associated with that domain.
It makes a statement on the web server of the visitor site after matching the IP address. However, not all DNS servers are reliable, particularly those provided by ISPs.
The top free and public DNS servers are listed below.
Even though your IPS provides you with a default DNS server, using a separate DNS server is always beneficial. Different DNS servers can provide you with greater speed, security, and some can even unblock region-blocked content, among other benefits.
So, in this article, we'll go through some of the top DNS servers to help you improve your performance.
1. Google Public DNS
It is currently one of the best and most popular DNS servers available. It's a free and open DNS server that first went online in December 2009.
Google Public DNS protects customers from a variety of security concerns and provides faster service than the ISP's default DNS server. The IP addresses 8.8.8.8 and 8.8.4.4 must be configured in users' network settings.
2. OpenDNS
Well, OpenDNS is yet another excellent free public DNS server that you can use right now. The public DNS server is provided by Cisco, and it focuses on speed and security.
The amazing thing about OpenDNS is that it detects and blocks harmful websites automatically.
Furthermore, OpenDNS uses Anycast routing to direct your internet traffic to the nearest DNS servers.
The internet speed is greatly increased as a result of this routing technique. Users must setup their network settings to use IP addresses 208.67.222.222 and 208.67.220.220 as their DNS servers in order to use OpenDNS.
3. Comodo Secure DNS
It is one of the greatest anycast DNS infrastructures accessible, as it is cloud-based, load-balanced, geo-distributed, and highly available. Comodo Secure DNS is extremely safe, as it blocks phishing and malware domains by default.
Comodo Secure DNS currently has Anycast DNS infrastructure hosted in over 25 countries, which you won't believe. This means that DNS servers will be available in most countries, resulting in quicker internet speeds.
Users must setup their network settings to use IP addresses 8.26.56.26 and 8.20.247.20 as their DNS servers in order to use Comodo Secure DNS.
4. CleanBrowsing
CleanBrowsing is a great app to use if you want to quickly enable DNS blocking on your Android phone. The CleanBrowsing Android software is simple to use and allows users to block DNS on their cellphones.
CleanBrowsing, for example, can block Adult websites on the internet. CleanBrowsing, on the other hand, is a new app that should not be trusted lightly. CleanBrowsing, on the other hand, can be used to set up DNS blocking on your child's device.
5. Cloudflare DNS
It's one of the internet's fastest and most privacy-conscious DNS servers. Cloudflare DNS, according to the business, can increase your internet speed by up to 28 percent when compared to other public DNS services.
Another advantage of Cloudflare DNS is that it does not keep track of your surfing history. Users must setup their network settings to utilize the IP numbers 1.1.1.1 and 1.0.0.1 as their DNS servers in order to use Cloudflare DNS.
6. Norton ConnectSafe
Norton, the largest security business, also offers a DNS server called Norton ConnectSafe, which few people are aware of. This is a DNS solution that uses the cloud to safeguard your PC from phishing assaults.
Not only that, but Norton ConnectSafe also comes with a number of pre-configured content filtering schemes that prevent phishing websites, pornography, and a variety of other things.
To utilize Norton ConnectSafe, you must modify your home router's DNS settings to use the IP addresses 199.85.126.20 and 199.85.127.20.
7. Level3
For those unfamiliar, Level3 is an international firm based in Colorado that provides free public DNS servers. What's fascinating is that Level3's DNS servers each have their own set of functions.
Configure your network settings to utilize the IP addresses 209.244.0.3 and 208.244.0.4 to use Level3 DNS servers.
OpenNIC
8. OpenNIC
Simply put, OpenNIC is an open-source DNS service that aspires to be a viable alternative to the traditional DNS. The good news is that the DNS server protects your computer from prying eyes by employing innovative mechanisms.
The DNS server will assist you in maintaining your privacy in the most basic way possible.
You must setup your network settings to use the IP addresses 46.151.208.154 and 128.199.248.105 in order to use OpenNIC.
If you're seeking for a public DNS server that can safeguard your computer and other internet-connected devices against cyber attacks, you should consider Quad9.
9. Quad9
What's more, guess what? Quad9 automatically restricts access to potentially harmful websites.
Your data is not stored on the Public DNS server.
To use Quad9, modify your primary and secondary DNS addresses to 9.9.9.9 and 149.112.112.112, respectively.
10. SafeDNS
It's one of the most popular and well-known cloud-based DNS providers. The DNS server is sufficiently optimized to give you with a superior web browsing experience.
To meet your budget, it offers both free and premium DNS servers. Use the IP addresses 195.46.39.39 and 195.46.39.40 to access SafeDNS servers.
So there you have it: the greatest free and public DNS servers available right now. Please let us know if you know of any more DNS servers similar to these in the comments section below.
I hope you found this material useful! Please pass it on to your friends as well.