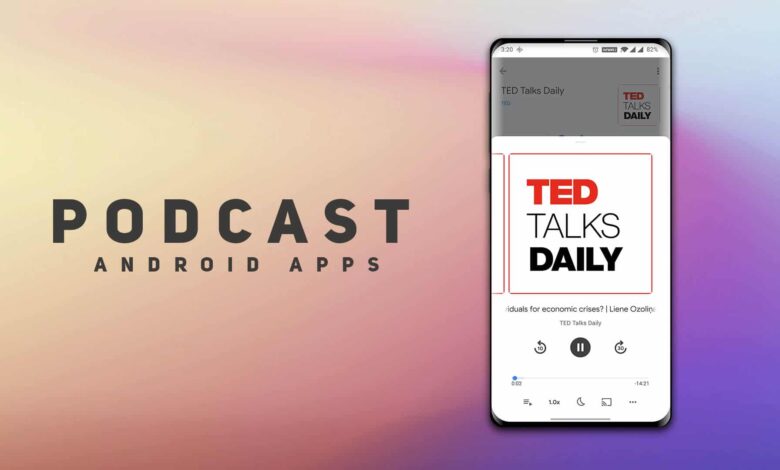 A podcast is an episodic series of audio or digital radio that may be subscribed to and downloaded via web syndication or played online to a computer or mobile device.
We all have smart gadgets in this smart world that can broadcast these material through apps tailored for them.
The Top 10 Best Free Android Podcast Apps
We've compiled a list of some of the best podcast apps for streaming your favorite media on your smartphone.
Take a peek at the apps listed below.
TuneIn isn't a podcast app; instead, it's a video streaming app that lets you view live sports, music, news, podcasts, and radio. TuneIn is fantastic because it is completely free to download and use.
Every NFL, MLB, NBA, and NHL game is broadcast live.
Free commercial music selected by cutting-edge DJs.
Stream more than 100,000 AM and FM radio stations from all over the world.
Well, if you're looking for a simple podcast app, RadioPublic might be the right choice for you. There are up to 300,000 podcasts and 15 million episodes available, with podcasts in a variety of languages.
Listen to episodes without using mobile data by downloading them while connected to WiFi.
By pressing the play button, you can listen to podcast episodes without having to wait for them to download.
Create a bespoke playlist by adding episodes to your queue.
Spotify is currently one of the most popular music streaming services available. The music streaming service also features a podcast library including humor, storytelling, entertainment, and other topics.
However, if you want to access all of Spotify's material, you'll need to upgrade to Spotify Premium. The premium edition includes superior audio quality and a larger number of podcasts.
Spotify allows you to listen to artists and albums while also allowing you to construct your own playlist.
Spotify Music adapts to your listening habits as well. As a result, you will receive a customized recommendation.
You'll also have access to a podcast library featuring comedy, narrative, entertainment, and more.
Stitcher, on the other hand, is another intriguing podcast app on the list. This is, however, a paid app, with a monthly charge starting at $2.92.
The best part about Stitcher is that it concentrates on original and unique content. As a result, it's another another excellent podcast app for Android.
The Stitcher premium subscription allows you access to exclusive content from your favorite shows.
Smart Speakers and Stitcher can work together. Stitcher's current version has an Amazon Alexa skill and is compatible with the Sonos Speaker system.
Users can opt to listen to podcasts immediately or download them to listen to later.
Another excellent podcast app for Android is PLayer FM's Podcast App. The software claims to provide a distraction-free listening experience with no features sacrificed.
The great part about the Podcast App is its beautiful UI, which is free of advertisements. Another great feature of the Podcast App is the offline mode, which allows users to listen to podcasts even when they are not connected to the internet.
The Podcast App syncs across all of your devices. As a result, you can manage your podcasts across all of your devices.
As previously stated, the Podcast App includes an offline option that allows you to listen to podcasts without having to be connected to the internet.
Multiple themes are included in the latest edition of the Podcast App. Colors and dark themes, for example, are available to users.
Podcast Go is one of those apps that lets you do things like download podcast episodes, play them at different speeds, set sleep alarms, and more.
Not only that, but the app has a lovely design and uses Material Design. The software is free, however it contains advertisements.
On your phone, listen to your favorite podcasts!
Podcast Go is the most elegant and free podcast player for Android phones.
Podcast Go allows you to search for, download, and listen to podcasts at any time and from any location.
You can subscribe to your favorite artists to stay up to date on their latest releases.
CastBox is a simple-to-use podcast player for podcast fans, with a minimalistic design and simple navigation.
With a large selection of podcasts to pick from, you can listen to or download your favorites for free anywhere, at any time.
Over 1 million podcast channels, including big networks, are available to subscribe to.
50 MILLION+ podcast episodes are available to stream or download.
Find out about new and popular podcasts in 16 different categories.
Pocket Casts, on the other hand, is an app created by listeners for listeners. Pocket Casts is noted for its podcast recommendations that have been hand-curated.
Pocket Casts has more powerful playback settings than other podcast apps for Android. Pocket Casts, for example, allows you to reduce silence, modify playback speed, increase volume, and more.
When you're on the go, Pocket Casts allows you to switch between video and audio podcasts.
With unique skip intervals, you can control your podcasts from the widget, notification center, lock screen, headphones, Bluetooth, Android Wear, and even Pebble.
Dark and light themes are available to fit your mood and location.
Share your favorite podcasts, episodes, and positions in episodes in the comments section below. Sharing is a form of caring.
The Podcast Addict is another app similar to Beyondpod. This is one of the greatest Google Play Store apps available.
This software allows you to manually search for podcasts, add an RSS feed, explore top podcasts, import through OPML, and many more features that you will learn about after installing it.
Using the embedding networks (5by5, ABC, AfterBuzz TV, BBC, CNN, Carolla Digital, ESPN, FrogPants, LibriVox, Nerdist, National Public Radio (NPR), Revision3, Smodcast, Ted Talks, Twit, NPO) you can subscribe to your favorite podcasts.
Your podcast subscriptions can also be imported from iTunes or any other OPML file.
You may also subscribe to your podcast by copying and pasting the RSS feeds.
You can also listen to online radio stations in real time.
This is one of the greatest podcast apps for Android devices, with a huge library of media streaming options.
This app stands out among other podcast apps because of its large selection of podcasts.
The app's only drawback is that it is not free. On the first use, however, you get a 7-day full feature trial.
Thousands of free audio and video broadcasts from around the world are available. Browse our huge selection of popular Podcasts or search for feeds.
BeyondPod's adjustable "skip/repeat" buttons make it simple to skip over parts you don't care about or to replay bits you missed.
Directly from BeyondPod, cast your audio or video episodes to your TV using Chromecast.
So there you have it: the greatest Android podcast apps. I hope you found this material useful! Please pass it on to your friends as well. If you have any questions, please leave them in the comments section below.