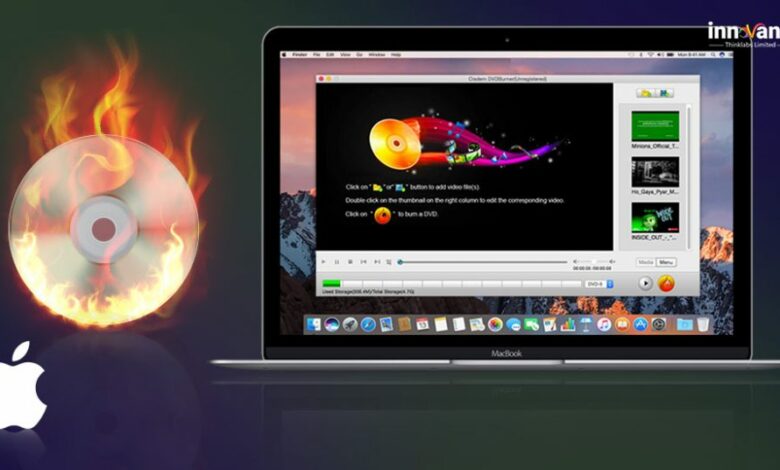 Burning software simplifies the process of recording files on a CD or DVD. You can easily locate software to burn your disks whether you're using a Windows or Mac computer. We've listed some of the top free DVD burner software for Mac in this article. So, without further ado, let's have a look at the software and what they have to offer.
The best software for burning DVDs on your Mac device is listed below.
1. Toast 19 Titanium
Toast 19 Titanium is the first DVD-burning program on the list. Although this is not free software, it is substantially less expensive than other paid products. Most recent versions of macOS are supported by the software. MacOS Big Sur 11.0, macOS Catalina 10.15, and macOS Mojave 10.14 are among the compatible OS versions. This new external DVD burner software comes with a distinctive and appealing user interface. Apart from that, the software includes a slew of other capabilities, which we've highlighted below.
Toast 19 Titanium has the following features:
The software can burn, copy, and safeguard DVDs, CDs, and USB drives quickly.
The menu can be readily customized to meet the user's needs.
Screen recording, audio editing, and photo art features are all included in the full package of applications.
For all you dark fans, the software features a dark mode.
Wondershare is a well-known company that also sells DVD burner software. You can burn CDs, DVDs, and Blu-rays easily with Wondershare DVD Creator for Mac. All types of data, including films, audio, and image files, can be burned with the software. If you have any problems with the software or its interface, simply contact the customer support team, who will be happy to help you. Aside from burning capabilities, the software includes slideshow maker, burn data disc, video editor, ISO to DVD conversion, and more.
Wondershare DVD Creator for Mac has the following features:
The software has capabilities that make burning picture and video files simple.
Hundreds of templates from various parts are available.
The user can easily alter the template to their liking.
The software also has video editing capabilities.
3. iSkysoft DVD Creator for Mac
The next item on the list is a fantastic DVD burner that you can install on your Mac PC and use to burn a variety of files. DAT, MP4, 3GP, VOB, MKV, M4V, MPEG, AVI, and others are among the files that the software may burn.
You may simply edit videos in addition to burning them. You may add subtitles, audio tracks, change colors, tweak the size, and add typefaces using the editing tool. You may also make a photo slideshow with music and tweak it for a different person.
ISkysoft DVD Creator for Mac has the following features:
The app works with the majority of Mac OS X versions.
It offers a simple and clean interface that most people appreciate.
The software includes free DVD templates that complement the theme.
You may also quickly edit videos for personal use.
4. Burn
Burn is a well-known DVD burning program. If you haven't heard of this software before, you may not have correct information about it. This program is often used to burn CDs and DVDs. You can use the software to create a customized menu and select a theme that you prefer. Aside from that, you can modify sophisticated options such as file dates, disc icon file permissions, and so on.
Burn has the following characteristics:
The software is compatible with macOS 10.10, 10.9, 10.8, 10.7, and 10.6.
You may also convert files with the software.
It's a free and open-source program with a lot of complex features.
For burning, the app supports all main file formats.
5. Finder
Next, there's a fantastic DVD burner built into your gadget. Regardless of the operating system, this is the default program on your computer. You might not realize it, but this software can burn CDs and DVDs swiftly. The nicest feature about this software is that it is really simple to use, with an interface that is similar to that of standard Mac software. This software is simple to use and may be used by any Mac user. To burn the files, simply drag and drop them.
Finder's features include:
This is built-in software that does not require any additional installation.
It has a lot more to offer than merely burning capabilities.
The best part is that it doesn't cost the user anything.
You don't need to install any additional software.
6. Disco
Disco is another excellent external DVD burner software for Mac. The majority of users enjoy the software's old-fashioned but functional interface. It can burn most files from your CD or DVD with ease. Unlike other software, this shareware DVD burner for Mac allows you to conveniently keep track of burned data. The date, disc details, and other information are included in the file tracking.
The software even features a feature that allows you to conveniently split huge files across many discs. It includes features such as audio burning, CD multi-session support, dual-layer DVDs, and more. Although, due to its discontinuation in 2011, this software no longer receives updates.
Disco's characteristics include:
It's a simple, free-to-use program with a nice interface.
The software keeps track of all the files that have been burned.
Users can choose from a large number of templates.
Large files can be readily divided into numerous discs using the software.
7. Simply Burns
Simply Burns is the next DVD burner on the list. It is, as the name implies, a very simple software that can be used by everyone, regardless of age or expertise. This software can burn media files on DVD and CD in a matter of seconds. The nicest thing about this software is that it is open source, which means that no license is required to use it.
This software has data project, disc ripping mode, duplicating mode, and audio project-like functions in addition to burning capabilities. Unlike other tools, it lets you save projects to the hard drive by saving them as a document.
Simply Burns has the following features:
It's a fantastic program that allows you to effortlessly save all of your projects on a hard drive.
Most file types are supported by the software for burning to CD and DVD.
The software's user interface is simple and clean.
On the home page, it provides all of the project's details.
8. DVDStyler
Another excellent DVD burner for Macintosh computers is DVD Styler. Unlike the other DVD burner software on the list, this one can also be run on Windows. It is free and open-source software that does not require a license to use. This software is compatible with macOS 10.10 and subsequent versions.
This DVD burner comes with all of the necessary functionality for burning files. Apart from that, the interface is highly user-friendly, so even if you are new to using this software, you will be able to accomplish burning in no time. VOB and MPEG files can be used without re-encoding.
DVDStyler has the following features:
The software offers a simple interface that does not require any training to use.
It supports all of the major file formats.
The software is open-source and free to use for anyone.
You can easily change the DVD menu with the software.
9. LiquidCD
LiqiudCD is the next program on our list of freeware DVD burners for Mac. The software is also incredibly simple to use. It has unique capabilities that you may use to burn photographs and videos in addition to its simple UI. The best thing is that, in addition to delivering unique features, it is completely free to use. It also has three important features: DVD burning, CD burning, and photo editing.
LiquidCD has the following features:
It offers a fairly simple user interface with easy-to-find choices.
You can quickly burn images, movies, audio, and music files with the software.
For convenience, the software provides a variety of functions to pick from.
It can burn a wide range of file formats.
10. Express Burn
Express Burn is the last item on our list of DVD burner software to download. The developers considered the features before naming the product, which is a good fit. It's fantastic software that runs at breakneck speed. You can quickly burn a variety of file kinds onto a variety of discs.
You can pick between paid and free versions of the software, depending on your needs. When it comes to the file types that the software supports, the list might go on and on. MP4, MPG, AVI, OGM, and VOB are just a few of the major file formats that are supported.
Express Burn has the following features:
The app offers an outdated yet straightforward user interface.
It works with the majority of Mac operating systems.
You can effortlessly burn a variety of file formats with the software.
You can also construct and manage disc chapters according to your needs.
In 2021, the Best DVD Burners for Mac will make it simple to burn files.
These are the greatest solutions for burning data to CDs and DVDs currently available on the market. The nice thing about these CD and DVD burning software applications is that they come with a slew of features that make the entire process a snap. These extra features make them deserving of a spot on our list. These were the top free DVD burner software for Mac, according to our study; if you have any other suggestions, please leave them in the comments area below.
If the software is worthy, our team will access it and add it. Subscribe to our newsletter for more helpful articles like this and never miss an update.