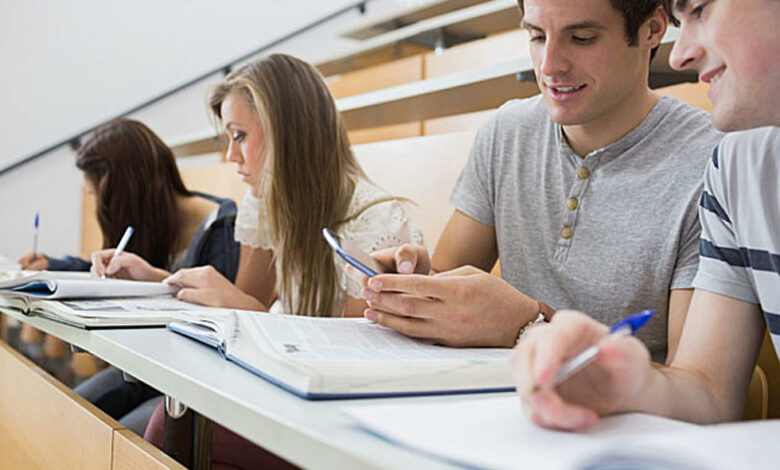 The world is increasingly connected, and our smart devices, such as Android, are used for nearly everything. In earlier years, only laptops were available to assist students with their work, but Android now has the potential to perform all of that with amazing reliability.
If you're a student, you've come to the correct place. We'll go through some of the top Android apps that every student should have on their phone in this article.
The 10 Best Android Apps for College Students are listed below 2023
These are general apps that were created with students in mind to assist them with their academics. So, let's take a look at the top applications for college students.
The Hi-Q MP3 Voice Recorder raises the bar for mobile sound recording. This might be the greatest Android app for recording voice lectures if you're seeking for one.
The program is jam-packed with features and customization choices, and it outperforms any ordinary recording app thanks to high-fidelity 44 kHz audio sampling.
Simply open the app and you're ready to go! You can start recording right away by pressing the striking Red button.
Real-time recordings are saved as MP3 files that are small enough to be played practically anywhere.
Your recordings are safely kept with automatic upload to Dropbox, and you may free up more space on your smartphone.
Oxford Dictionary of English is a mobile dictionary with Oxford University Press content.
This dictionary is suitable for professionals, students, and academics, as well as anyone who requires a thorough and authoritative English dictionary.
Search autocomplete assists you in rapidly finding words by presenting suggestions as you enter.
You can use keyword lookup to search within complex words and phrases.
A 'Wild card' ('*' or '?') to replace a letter or full sections of a word, as well as an automatic 'Fuzzy filter' to fix word spelling.
The camera's search function looks up words in the viewfinder and displays the results.
Installed apps on your smartphone can be used to share word meanings.
What if I told you that you could get your hands on the best books, audiobooks, news, periodicals, documents, sheet music, and more for less than a paperback?
Scribd is the only reading app you'll ever need to immerse yourself in a topic, keep informed, try something new, or escape into a wonderful narrative.
Every month, you'll receive 3 books and 1 audiobook of your choice.
Unrestricted access to the world's largest document library, which contains government papers, academic dissertations, in-depth scientific investigations, and much more.
Our editors have hand-picked a selection of books and audiobooks for you to enjoy.
Store titles offline so you can enjoy them whenever you want, even if you don't have access to the internet.
We all know college students don't have enough time to learn everything and keep up with current events.
As a result, Feedly might be the ideal choice for them. It's a one-stop shop for all of your favorite publications' news.
Feedly allows you to create collections for your favorite periodicals, podcasts, and YouTube channels, and receive notifications when new stories and videos are published.
This is one of the cool apps for all college students. Join the 4 million+ people worldwide who are accomplishing incredible things with Todoist – the wonderfully easy to-do list and task management made for the pace of modern life.
Whether you need to interact with your team, keep track of your most essential tasks, or remember to pay the rent, Todoist is there to help you do more every day.
Manage your tasks from anywhere – even offline
Never miss another deadline by planning ahead.
Sub-tasks, sub-projects, color-coded projects, and priority levels will take your to-do list to the next level.
Within the app, you may share projects, assign tasks, and leave comments.
Wikipedia is an open-source encyclopedia that anybody may contribute to. Top Wikipedia articles are open source, and the app code is open source as well. You can even contribute to Wikipedia as a result of this.
Wikipedia could be an excellent learning resource for pupils. On Wikipedia, you may discover information on practically every subject.
Tabbed browsing: tapping and holding a link opens it in a new tab, allowing you to keep reading the current article while switching to the new tab when you're ready.
Link previews: Tapping on a connection displays a preview of the connected article, allowing you to receive a quick overview of the link without losing your place in the current page.
RealCalc Plus is a pro version of the most popular scientific calculator on Android. The calculator app is designed to resemble a real hand-held calculator in appearance and functionality.
It includes all of the standard scientific functions, as well as fractions, degrees/minutes/seconds, history, memories, unit conversions that can be customized, and constants.
RPN or algebraic operations are examples of traditional operations.
Calculating fractions and converting to and from decimal
Calculations and conversions in degrees, minutes, and seconds
Display of 12 digits
You might be working with a lot of text or PDF files as a college student. You can easily open Microsoft office files using WPS Office + PDF.
Not only that, but WPS Office + PDF contains a PDF reader that can be used to read PDF files in the free version. Overall, it's a fantastic Android office suite app.
Evernote is a cloud-based workplace that syncs across all of your devices. Stay productive while working from anywhere. Evernote provides you with the tools to effectively share, discuss, and interact with others.
The software is also well-known for its useful note-taking capabilities. You may use this software to add photographs, videos, and reminders to your notes.
Make a list, make a checklist, and do some research.
Organize articles, documents, and photographs from the web.
Within the app, you can discuss your work with others.
CamScanner is a mobile app that allows you to scan, store, sync, and collaborate on a variety of documents from your smartphone, tablet, or PC.
You can use this to scan essential notes, assignments, and a variety of other critical papers from your Android device, which will be useful for future reference.
Scanner for mobile devices
Quick Lookup
Image Text Extraction
PDF/JPEG Files Can Be Shared
Printing and Faxing