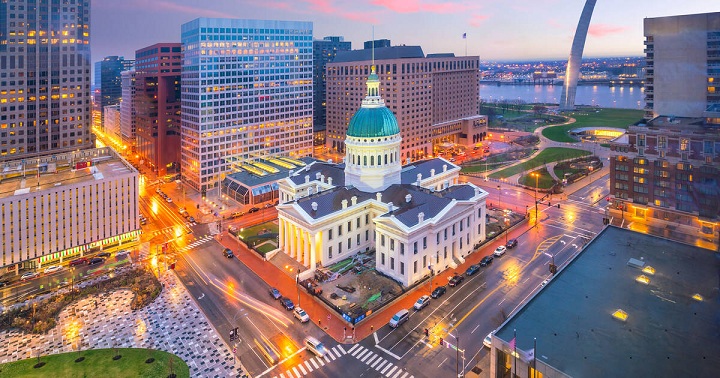 The Midwest has a lot of things that can be considered its claim to fame, and one of the most important items on that list is beer. If you are from the Midwest, you know beer is more than a beverage—it's a lifestyle—and brewing it is just as important as drinking it. Many great breweries make their home in the Midwest, leading to its prominence in the history of this area. Sharing a delicious brew with friends at a local bar or grabbing drinks at a sporting event is one of the most Midwestern activities that one can do.
If you are also a beer lover—no matter where you're from—and want to check out some of the best ale in the area during your time in the Midwest, there are a few spots you need to hit. With craft beer experiences that can be considered unparalleled, you'll be sure to find your perfect pint in any of these great cities.
St. Louis
The first spot that any beer lover should visit is St. Louis, Missouri. This city is home to some of the best breweries in the country, like Anheuser-Busch. Their headquarters is located here, and they offer tours of their iconic facility, allowing visitors to discover the secrets of their beer-making process. Visitors can also explore the many local craft breweries that St. Louis has to offer, such as Urban Chestnut Brewing Co. or The Side Project Brewing, located right outside of town.
Indianapolis
Another great Midwestern city, Indianapolis, Indiana is perfect for any beer lover. Not only does this city offer a thriving craft beer scene, but it also has one of the most fun beer festivals in the country—the Indiana Microbrewers Festival—which celebrated their 25th year in 2022. With an extensive selection of both local and international brews, you'll find something new and interesting to try in Indianapolis each and every time you visit.
Louisville
For those looking for a more rural experience, head to Louisville, Kentucky to check out some of the oldest and most renowned breweries in the U.S. Visitors can sample classic lagers as well as unique brews such as bourbon-barrel aged stouts and IPAs at Louisville's local breweries. Not only are there a plethora of beer options to choose from in the area, but the city also boasts a vibrant beer culture with an array of festivals, craft fairs, and brewery tours that all beer lovers should check out.
Milwaukee
If you're looking for a classic Midwestern experience with a twist, then look no further than Milwaukee, Wisconsin. Notoriously known as the "Beer Capital of the World", Milwaukee is home to some of the most iconic beer brands, such as Miller and Pabst. This city also has an abundance of craft breweries, such as the Great Lakes Distillery & Tasting Room and Lakefront Brewery. With its historic beer halls, lakeside views, and unique gastropubs, it's easy to see why Milwaukee is a favorite destination for beer lovers.
Cincinnati
Downtown Cincinnati, Ohio is the perfect place to grab a beer with friends. Featuring some of the best microbreweries in the Midwest, a trip to MadTree Brewing, Rhinegeist, or Urban Artifact is an absolute must when in the area. Plus, with incredible entertainment at many of these establishments, you may just want to start looking for Cincinnati houses for sale so you can try every single brew first-hand.