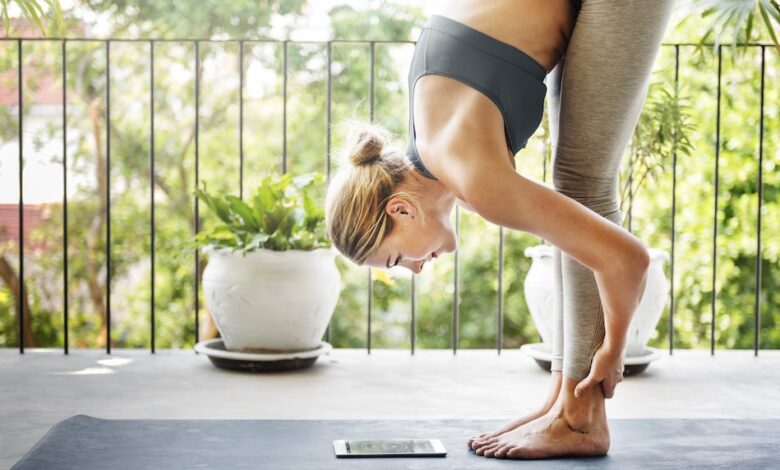 Stretching plays a major role in relieving pain and improving flexibility. While some people may overlook this exercise, others realize its importance and start seeking the best stretching apps. But, finding apps that focus on stretching and flexibility exercises could be a bit challenging.
An excellent stretching app should include another stretch, contain easy-to-follow descriptions and videos, and a tracker to track your progress. For a better user experience, the stretching app should have an in-app timer.
Top

10 Best Stretching Apps for Android and iOS In 2021

We have collected 10 top stretching applications to ease your tension and promote flexibility. The following apps come with different features, and some are better than others. Select an app that suits your needs!
1. Healthy Spine & Straight Posture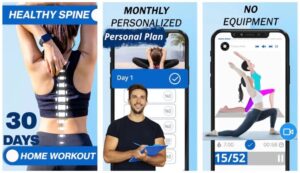 Neck pain and back pain is often caused by bad posture and tension. Now you can say farewell to this pain and gain a straight posture and a healthy spine. Thanks to Healthy Spine & Straight Posture app that includes workout programs to improve spine strength and relieve back and neck pain.
Using this app, you can exercise for a few minutes each day from streching hips to lumbar spine muscles and shoulders. All the workouts are clinically proven to promote a healthier spine and better posture, not to mention it is suitable for users of all ages and skill levels.
No equipment is needed to stretch using this app. Easily choose a workout plan from simple, normal, to hard plan. Once you decided, follow the instruction videos and see how it supports align your bones and increase muscle flexibility.
Download on Google Play / Download on the App Store
2. Daily Yoga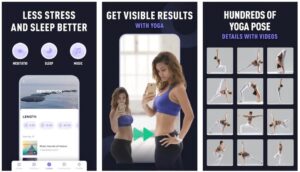 Brought to you by Daily Yoga Team, this fitness app has everything you need for stretching for beginners. It may not be specifically designed to stretch your muscle; and however, most yoga movements can promote flexibility and mobility beginner stretches. That's why Daily Yoga has been trusted by millions of users worldwide.
This app includes yoga challenges for all levels. If you are a beginner, it provides guided classes that make learning yoga from the basics. Advanced classes guided by world-class teachers are available to hone your skills, balance, and stretching for flexibility routine as you progress.
Using Daily stretches Yoga gives access to a huge yoga community that will be happy to share their advice and experience. You can also select between 40 coaches with various specializations, such as weight loss, flexibility, sleep and relaxing, and much more. Plus, it has a tracker to help track your exercises.
Download on Google Play / Download on the App Store
3. StretchIt
StretchIt is among the best apps for promoting flexibility and reaching your goal. This app can find world-class instruction, simple to follow videos with voice cues and flexibility challenges. There are many different features to find such as personalized training recommendations and progress tracking.
This app includes thousands of flexibility exercises that combine pilates, yoga, gymnastics, and other woman stretching workouts. With more than 40 hours of content, it is brilliantly simple to find classes that meet your needs. Whether you are a beginner or pro, StretchIt has the proper flexibility workout to follow.
Also, this tool is supported by an experienced instructor who will example you. The instructor combines passion, knowledge, and extensive expertise to provide you with the best flexibility training way. And don't forget this app has flexibility challenges to support achieve your goal.
Download on Google Play / Download on the App Store
4. Pilates Workout Routine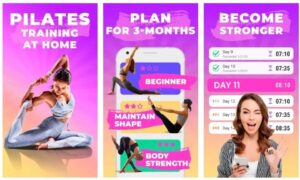 This Pilates workout program could be the best flexibility app you could ask for. Developed by mEL Studio, it enables you to practice Pilates and flexibility exercises at home. There are 3 multiple plans to choose from, including Beginner, Maintain Shape and Body Strength.
Installing this app is like having a personal coach in your pocket. Whenever you need to stretch, quickly choose a difficulty level and follow the instructions on the phone screen. If you are a beginner, six different programs are available to strengthen your muscle and improve flexibility.
More features to find in this app include detailed video and description, virtual instructor to support you accomplish the program, and custom workout. There is additionally a statistics system that records your progress and achievement. Just try this app and see how it changes your life.
5. Flexibility Training & Stretching Exercise at Home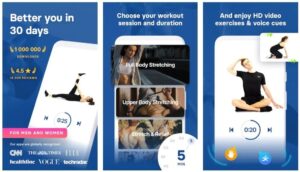 Next on the list, Fitify Apps released a fantastic stretching and flexibility app to practice at home. Practicing these stretching exercises helps increase your flexibility, muscle control, and mobility. With 4 unique workouts, this best free stretching app iphone easily meets your stretching preferences.
Choose between complete body stretching, lower body stretching, upper body stretching, or back stretching that you need the most. HD video and voice cues act as a personal trainer who helps you with the exercises. No equipment is needed, so you can simply do it at home.
Do you want to build your exercise? It comes packed with a custom workouts feature that allows you to customize exercises, duration, and intervals. What's more, it offers an offline version that will enable you to practice without an internet connection. This fantastic app works well for men and women of all ages.
6. Stretching Exercises at Home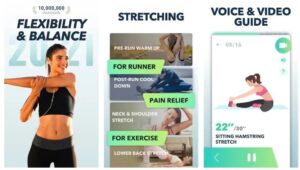 This is one of the useful apps developed by Leap Fitness Group, a popular health and fitness app developer. The name indicates that you'll find stretching exercises for beginners multiple purposes such as pain relief and morning warm-up. It is also the best stretching app for runners that offers a pre-run warm up.
Not only does it help increase flexibility, but it also works effectively to avoid injury and reduce muscle soreness. Stretching exercise can also relieve pain, decrease stress, and improve blood circulation. To reach the goal, it's necessary to follow the instruction and practice stretching as instructed.
In addition to stretching exercises with a voice coach and video demonstrations, it features a calorie tracker to track your progress. It additionally includes a workout reminder to make sure you don't miss a session. Plus, a beautiful chat supports track your weight trends, which is important for a weight loss program.
7. Warm Up & Cool Down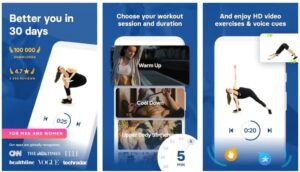 Preparing your muscles before doing a vigorous workout is needed for the best performance. Warm Up & Cool Down is an interesting app by Fitify that helps you warm-up, cool down, and stretch. Featuring HD videos and voice cues, doing workouts at home is like being guided by professional trainers.
If you need to stay healthy but don't have time to visit a gym or just need to save budget, this app has got you covered. Thanks to 65 exercises included in this app, enabling you to perform different workouts each day from warm-up to cool down. No equipment is needed!
Besides workout programs, this app is featured with calorie tracking using your data. It also allows you to customize workouts from the library so you can focus on certain body parts. And don't forget it has an in-app timer to help you time each movement.
8. Stretching Exercise by mEL Studio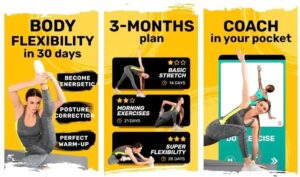 From the same developer as Pilates Workout Routine, Stretching Exercise is a famous training app for flexibility. With a set of workout programs, you can get better body flexibility within 30 days. Once this program is accomplished, it also corrects your posture and makes you energetic.
Stretching Exercise offers 3-month plan consisting of different workout plans, including basic stretch, morning exercise, and super flexibility. Each session takes a few minutes so you don't have to spend much time on this flexibility training.
Like its flexibility app counterparts, it contains simple to follow instructions, audio, and videos. Follow your virtual coach for everyday stretch workouts and gain the benefits. Join millions of people worldwide and trust your flexibility workouts to Stretching Exercise app.
9. Flexibility & Stretching App by Fitness Coach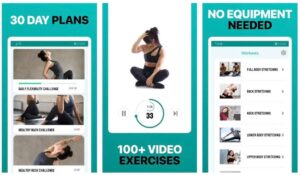 While some people spend a lot on hiring a personal coach, this application helps simplify your budget. It features 30-day plan challenges with more than 100 video exercises to improve your flexibility. Whether you are a beginner or high-level, it has six different difficulty levels to meet your preferences.
Installing this app on your device is like having a personal trainer on the go. Built by expert fitness trainers, it provides easy to follow exercises that don't need equipment. All workout programs are designed to meet your needs. Just make sure to select a training session that suits you.
Just in case you need to customize the workout, this best stretching routine app android has got you covered. You can quickly build a custom workout by choosing your favorite movement. There is also a calorie tracker and Google Fit integration to enjoy a better user experience.
10. Pilates Workout Routines by Fitivity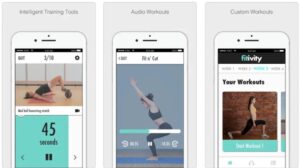 This is a beginner to advanced workouts program to develop your strength. It focuses on the hips, abdomen, and back to strengthen these muscle groups and improve flexibility. Featuring multiple training programs, you can quickly switch between programs as desired.
The free version is equipped with offline and online workouts, audio guidance, and customized workouts. You will additionally find HD videos that support you follow each workout without a real personal trainer.
The best stretching apps are all you need to relieve pain and promote body flexibility. Find a stretching program that suits your preferences and start stretching.