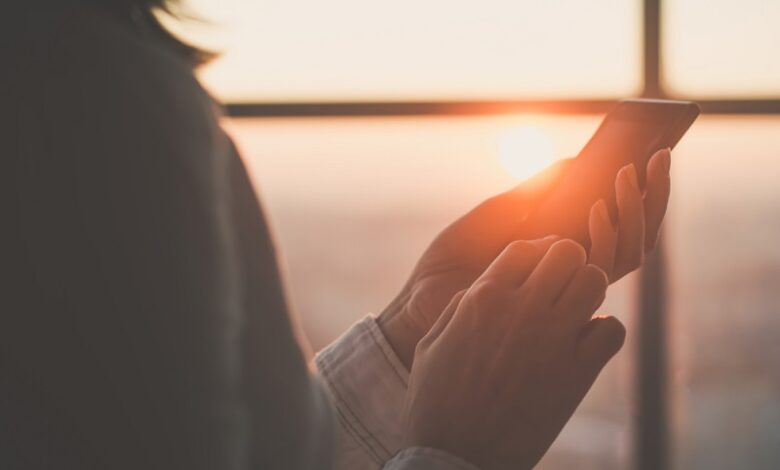 Palm reading has been around for a while. It has been practiced by many cultures to foresee one's finances, fan, career, and much more. As technology is getting more advanced, now you can download the best palm reading apps to read your palm.
These apps are designed to provide you with accurate palm reading lines. While some apps are equipped with palm scanners, others enable you to chat with psychic readers and hand readers. Can't wait to find the best app for reading palm? Scroll through!
Best Palm Reading Apps for Android and iOS
Palm reading applications bring some features to reveal your hidden life aspects. You can additionally find more about horoscope and astrology, love compatibility, and consultations with a fortune teller. We have collected 10 best apps from reading your palm. Check them out!
1. Palm Reader & Fortune Teller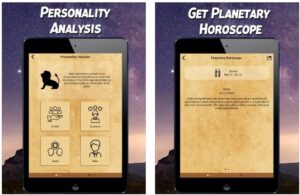 iPhone or Android users can take advantage of this app. Palm Reader & Fortune Teller lets you know your future and hidden secrets by reading lines in your palm. Get insights into your health, personality, and relationship without spending a dime.
Using this app is pretty easy. Follow instructions on screen, answer questionnaires about your palm, and get detailed information about your life. This palmistry app could be the best choice to have fun.
Download for Android / Download for iOS
2. Palm Reading Personality Test
Only a few people know that palm hides a big secret—it says many things about your life. Palm readings is the only method to uncover this secret. Rather than visiting a traditional psychic reader, you can download this palmistry app to tell you about your fate.
It has a load of features that enable you to read your palm without being a psychic. With a few easy steps, you will get a personalized reading of the lifeline. It only takes around 5 to 10 minutes to finish the process.
3. Palm Reading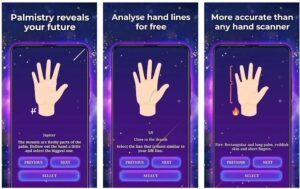 Palm Reading is an advanced palmistry app that claims to be more accurate than any different apps. Whether you want to discover your future finance, love, or health, this palmistry tool supports reveal it. Identify your hand lines and find a detailed interpretation that you need.
How these app works are quite simple. How to read your palm, complete short questionnaires to identify your hand shape, palm line, finger, nail sizes, and other information needed for the analysis. Please wait for a few seconds and it provides you with complete interpretation.
It comes with an intuitive interface that makes it simple to use. This is also the best free palm reading app that enables you to share the result. Or, if you want to dive deeper into palmistry hand, this app assists you learn more about it.
4. Kasamba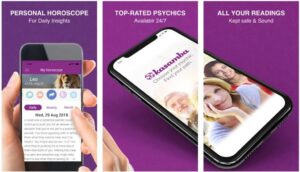 Kasamba is among the best hand reading apps that provide a live psychic reading. It offers a 3-minute trial with a real psychic, enabling you to get accurate and real solutions for every chat. Whenever you feel lost or need life advice, this is a famous app to call.
With almost 20 years of experience, this app has been trusted by millions of users from all over the globe. Not only can you have your palm read, but it additionally facilitates tarot reading, fortune-telling, astrology, and zodiac readings.
If you are embarrassed, use this app anonymously. Your details are safe and never shared with others. If you believe in fortune telling, Kasamba is worth the thought.
Download for Android / Download for iOS
5. Life Palmistry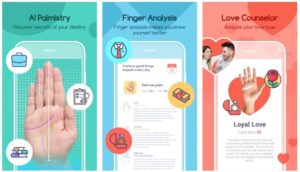 Discover the secret of your palm with Life Palmistry. Powered with AI technology, it provides palm reading and finger analysis that supports you know yourself better. More than millions of simulation operations are added to the app to provide a comprehensive palmistry report.
This palm reading tool highlights AI palmistry with a report that offers valuable suggestions. You can also find a daily example that provides a complete example to your work, love, finance, and social life. Hand analysis is additionally available to find out the secret of your destiny.
If you need a counselor, this best palm reading app is packed with love counseling services. More features are added constantly, enabling you to get the best out of it.
6. Relax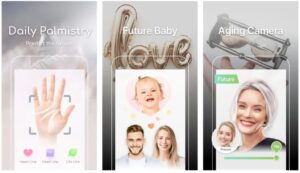 Relax is a fantastic daily palmistry app for Android users. Reveal hidden secrets of your life simply by scanning your app. Wait for 57 seconds to see a life-changing future prediction. Find more about your soulmate, finance, and even baby prediction.
This is a palm scanner app powered by AI technology and big data analysis to ensure prediction accuracy. It additionally works with professional palmists so it is an excellent app you can trust.
In addition to palm reading, Relax has much to offer. You can enjoy a fun aging camera, relax music, meditation, and future baby prediction. Thanks to an easy design that makes it simple to use.
7. Palm Reading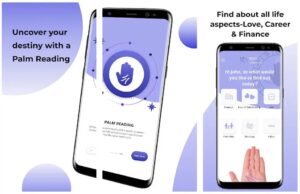 With a high rating on Google Play Store, this app is all you need to discover your destiny through palm reading. It comes packed with live palm reading analysis daily. Having this app on your tool enables you to get more insights.
As one of the best palm reading apps, it connects you to a professional palm reader who will read your life line. When you need help, motivation or empowerment, revealing your secret is the best way to make sure you are on the right path.
There are many fantastic features to enjoy, such as a user-friendly interface to an expert palm reader. You can also get a 3-minute free chat with the advisor to get the solutions you need.
8. Palm Reader: Palmistry Fortune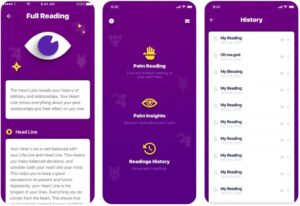 Just as with most palm reading apps, this tool offers personalized palm reading from the photo of your palm. Once downloaded on your smartphone, upload the image of your palm and it will trace the line. Wait for a few moments and it will reveal your secret life aspects.
This palm reader applies the rules of palm reading that pay attention to the heart line, headline, lifeline, fate line, and mounts. Thus, it can give you more accurate reading than other apps.
If you are looking for the best palm reading app, several choices above are worth the thought. Each app comes with powerful features that support you discover your destiny. Whether you believe in the prediction or want to have fun, try them out.
9. Palm reading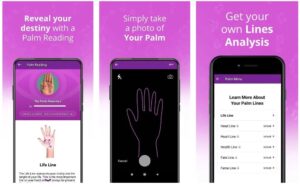 Do you want to have your palm read but cannot find professional palm readers nearby? This app offers a convenient way to reveal your destiny through palm reading. Discover mysterious aspects such as love life, finance, career, and health with the help of an expert palm reader.
How it works is easy. Take a photo of your palm and choose a professional palm reader as preferred. Could you send your photo and select Read My Palm? You can additionally enjoy a 3-minute chat for free to learn everything you need to understand about your fate.
This platform is entirely secure and confidential. This app doesn't share your information with a different party so your palm reading remains yours. The transcript is saved, enabling you to read back whenever needed.
10. Astro Guru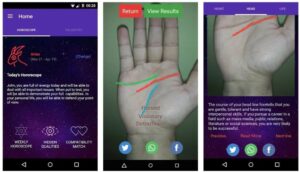 Astro Guru is a trusted fortune telling and astrology app that has been around for a while. It provides you with a bunch of features, such as free palmistry, astrology prediction, horoscope, and others. With more than 20 million downloads, it gives you fantastic palm reading for female by scanning your palm.
This device highlights horoscope and astrology that predicts your future based on zodiac signs. It also features palm reading to reveal your fate from 3 major lines of your palm. Or if you are more into tarot reading, Astro Guru has got you covered.
As a bonus, it offers consultations from expert fortune tellers and Vedic pandits. Ask any questions and they will give satisfying answers.