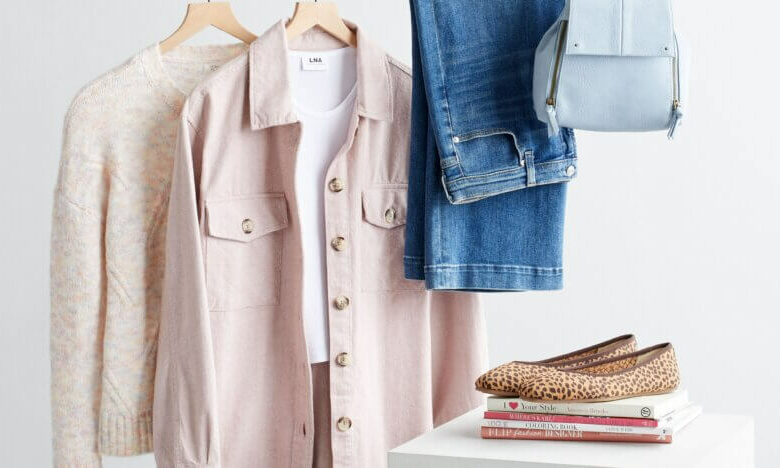 It's the time of the year again when the weather starts to shift, where mornings and evenings become cool, yet the afternoons remain comfortably warm. This transition period often leaves us questioning what to wear. Too heavy, and you might end up sweating in the afternoon. Too light, and you'll be shivering in the morning and evening. But there's one particular piece of clothing—a hybrid of a shirt and a jacket—that can answer our fashion woes during this season. Yes, we're talking about the plaid shacket! In this article, we will explore eight different ways to style a plaid shacket to suit any occasion or mood.
Understanding the Versatility of the Shacket
The plaid shacket is a versatile piece of outerwear that combines the casual feel of a flannel shirt and the warmth of a lightweight jacket. Shackets are designed to be worn in mild weather conditions, making them ideal for layering over or under other pieces of clothing. This versatility allows you to use them in various ways, according to your style and the occasion.
When choosing a plaid shirt jacket, consider the colors and patterns. Plaid is a universal pattern that can be styled in countless ways and is suitable for any season. Furthermore, the pattern adds character and a sense of fun to outfits that might otherwise feel dull or monotonous.
The most amazing thing about plaid shackets is their universal appeal. They strike a harmonious balance between rugged and refined, making them perfect for both casual and semi-formal settings.
A Pattern Made for Every Season
Contrary to popular sentiment, plaid isn't just for autumn. Plaid is a pattern that can be worn throughout the seasons, whether that's summertime or spring. In the summer, a thin, long-sleeve shirt in a plaid pattern works well for chilly nights.
In the springtime, a plaid shirt is great for layer under a coat. The pattern is a great way to break up solid colors. So, you can wear it under a trench coat or even under a sweater and pop out the collar and the bottom hem for a little bit of interest to your ensemble.
But of course, plaid print is best known for the autumn season in the U.S. The long sleeves work well for layer over a T-shirt when there's a cool breeze. Plus, there are plenty of cute shackets online that suit your closet's color palette.
In a Casual Setting
In a casual setting, a plaid jacket works well with pieces that offer comfort and a relaxed vibe. Pair it with your favorite pair of jeans and a plain tee for a simple yet stylish look. Leather or suede boots can complete this straightforward, everyday outfit.
Add accessories for a more personal touch: a beanie, a backpack, or some simple jewelry. Also, you can't go wrong with a pair of sunglasses. You can also choose to wear your long-sleeved shirt jacket buttoned up for a more polished look or open to show off your underneath top.
Navy, black, and grey are excellent for those who prefer a more subdued style, while red, green, or yellow jackets would appeal to those who like to make a statement.
Aesthetic Street Look
If you are the edgy type, a plaid shirt can be used to create an aesthetic street look. Pair your cute shackets with black skinny jeans, a white tee, and a pair of black combat boots. You can even add a leather choker or layered necklaces for added interest.
For a twist, pair your oversized plaid shirt jacket with a mini dress or a skirt. The juxtaposition of the casual shirt jacket with a more feminine piece creates an intriguing contrast that is both captivating and chic.
Lastly, if you're feeling extra bold, you can play with colors. Choose a brightly colored shirt jacket and pair it with contrasting colored pieces. This is a sure way to turn heads and make a fashion statement.
For a Semi-Formal Event
Surprisingly, a plaid shirt jacket can be styled for a semi-formal event too. Combine your shacket with slim-fit trousers, a dress shirt, and a pair of black loafers for an ensemble that's casual yet refined.
Alternatively, wearing a monochromatic outfit underneath your shirt jacket can create a sleek silhouette, and the shirt jacket adds a pop of color and texture to the outfit. Remember, semi-formal occasions do not mean boring. It's all about achieving a balance between casual and refined.
In colder weather, layer your plaid shirt jacket over a cozy sweater. This not only helps you stay warm but also adds an interesting layering element to your outfit. Opt for a charcoal grey or navy blue shirt jacket in these instances to maintain a more dignified vibe.
School or Campus Style
If you're a student trying to keep your style comfortable yet trendy, a plaid shirt jacket is an excellent choice for your campus outfit. Complement it with a pair of high-waisted jeans, a crop top, and a pair of white sneakers to keep things casual and comfy.
You can add accessories like a compact backpack, hoop earrings, or simple bracelets to give more dimension to your outfit. If it's a bit colder, you can layer your shirt jacket over a cozy sweater or hoodie for extra warmth while still keeping your style game up.
For a Night Out
Heading out for the night and don't know what to wear? A plaid shirt jacket is your friend. These cute shackets can add an extra urban-chic vibe to your nighttime attire. Start by pairing the shirt jacket with a chic crop top and some high-waist black skinny jeans. Add a pair of stiletto boots for an elevated look.
Minimal accessories work best for this look. A pair of large hoop earrings, a layered necklace, or a wrist cuff are ideal choices. However, be sure to match the tone of your accessories along with your makeup to the color of your shirt jacket.
And for the ultimate night out, why not consider wearing a slinky dress underneath your shirt jacket? This will instantly elevate your outfit to a whole new level of glamour and style.
Shirt Jackets for Men
Let's not forget about shirt jackets for men! Shackets are in no way restricted to women's fashion. For men, a plaid shirt jacket from Reitmans can be an excellent choice for a laid-back, stylish look. Simply pair your shirt jacket with a plain tee, jeans, and a pair of boots to have a rugged yet fashionable outfit.
A tip for men's fashion with shackets is to keep things basic, preferring neutral colors for a more masculine and rugged feel. Consider using accessories like a leather belt or a watch. Adding a beanie or a cap can take the look to a different level.
Men can also go semi-formal with a plaid shirt jacket. Pairing it with chinos, a solid color button-up, and brogues can create an excellent dinner date look.
Overall, the plaid shirt jacket is a versatile piece and a must-have for any fashion enthusiast. The key to styling a shirt jacket, like any other piece of clothing, is to experiment. Don't be afraid to mix and match, layer, and play with colors. After all, fashion is all about expressing oneself and having fun.