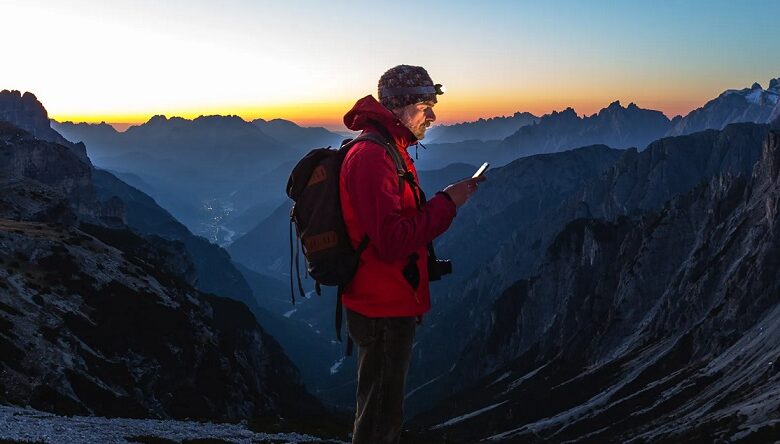 Hiking can be a perfect method to escape from tedious routines. To make sure you have a great time outdoors, a hiking app is among the things to prepare before leaving. The best hiking apps should have helpful features to enjoy the best experience while keeping you safe.
There are a plethora of options when it comes to hiking apps for Android hiking app and iOS hiking app. If you don't have enough time to scroll through Google Play Store or App Store, you've visited the right page. The most recommended hiking apps have been wrapped up for you. Check this out!
Table of Contents
Top 10 Best Hiking Apps for Android and iOS
From navigation to track logs, hiking apps offer many features to take your hiking experience to a different level. These apps can be a perfect outdoor partner, whether you want to take a walk or ride a mountain bike.
1. Komoot
Enjoy the most out of your adventure with Komoot. With more than 10 million downloads on Google Play Store alone, this app has everything you need to plan a perfect ride or hike. Even if you want to try new territories in different regions, this is a famous app to try.
It has the ability to display detailed information like distance, surface, elevation profile, and difficulty level. This feature enables you to differentiate single track, paved roads, or terrain only with a glance.
To make sure you stay on the route, it comes packed with turn by turn voice navigation. This is how Komoot keeps you concentrated and focused on the route. Download your topographic maps so you can use them without an internet connection.
Other highlight features to enjoy include adventure tracklogs that allow you to tell your story and add a photo so you can share it with another member of the Komoot community. You can also browse Highlights to decide the next destination.
Download on Google Play / Download on the App Store
2. AllTrails
AllTrails app has been awarded as Editor's Choice on Google Play Store, which means it is worth the download. This is a powerful app to explore the outdoors without worries, thanks to the versatile features that come with it. Even if you are a beginner, having this app makes you feel confident for the adventure.
With AllTrails pro, you can explore more than 200,000 mountain bike routes and hiking upward trails. It has a vast collection of trail maps and downloadable maps for offline use. Whether you are into running, hiking, or mountain biking, you will find All Trails app the best hiking app for iphone to install.
If you want to invite your junior or dog, this app has a filter feature that enables you to sort trails by kid-friendly or dog-friendly. Save your favourite trails so it is simpler to visit the same trail in the future. Do you wish to share with friends? This app is integrated into social networks like Facebook and Instagram.
Download on Google Play / Download on the App Store
3. Gaia GPS
Explore unique places and discover new trails with Gaia GPS. Thanks to the versatile maps designed for every outdoor activity, a million users worldwide have trusted this app to camp, hunt, or hike. This is what you need to enjoy outdoor adventure and never get lost.
As one of the best free hiking apps, Gaia has tons of features like intelligent routing tools that support you to plan trips and up-to-date weather forecasts to pick the best time to start. It additionally can measure distance, elevation, and mark campsites.
What if the signal is lost? No need to worry about it. Gaia GPS helps offline mode, enabling you to use the maps without an internet connection. Be sure to download the maps before leaving and it will work well to navigate your outdoor adventure.
Download on Google Play / Download on the App Store
4. Map My Tracks
If you wish to track your fitness while hiking, Map My Tracks has got you covered. This app is completely simple for bike rides, walks, runs, and different outdoor activities like horse riding or skiing. Millions of users have trusted their workout and outdoor pursuits to this beautiful app.
There are so many things you can do with Map My Tracks. Besides recording outdoor activity, it tracks your speed and measures your performance. Your heart rate, calories burned, and pace can additionally be tracked using this smart app.
Do you want to share with friends and brag about your physical activities? Map My Trackers lets you create beautiful videos to share via social networks like Facebook and Twitter or save on your device. Not only can you relieve your stress, outdoor pursuits can also maintain your health.
Download on Google Play / Download on the App Store
5. View Ranger
View Ranger could be the best option if you are looking for powerful trail maps for biking or hiking. This Editor's Choice can be your partner for outdoor adventure thanks to route browsing and map download ability. It also lets you share your location with BuddyBeacons.
Using this app, you can quickly navigate trails and view track stats at your fingertip. It also enables you to record a new track with a pause and stop function. Plus, you can view heading, altitude data, and bearing for a real feel of outdoor adventure.
Discover more than 150,000 routes with View Ranger. Thanks to the long list of routes to explore, you will never run out of a plan for the upcoming adventure. For convenient usage in outdoors, this best hiking app supports offline mode with detailed maps.
Download on Google Play / Download on the App Store
6. Hiking Project
Enjoy a comprehensive example of fun hikes with the HikingProject. Featuring complete info about GPS route and elevation profile, you will never get lost in the adventure. It also comes with interactive features and photos so you can plan a perfect adventure trip.
This app lets you find more than 74,000 miles of trail to explore. For the best experience, new trails are added to the database. For easier tracking, you can find your exact location on the trail maps displayed with high-res photos. Download the trails, and they can be utilised without an internet connection.
Download on Google Play / Download on the App Store
7. National Park Trail Guide
Do you have a plan to hike in National Parks? This is a versatile app to get a comprehensive example of sightseeing and hiking in the parks. It comes packed with hike descriptions and trail data of National Parks like Yellowstone, Grand Canyon, Yosemite, Rocky Mountain, and more.
If you wish to enjoy the best hiking experience, use the 'best of' search filter to give you a list of curated destinations. You feature satellite maps and vertical profiles, no need to worry about getting lost even if you are not connected to the internet. Thanks to offline mode coming with this best hiking app.
So this is your first hike? National Park Trail Guide helps you plan the perfect trip with hike difficulty ratings. You can additionally pick a route with friendly elevation profiles or a kid's friendly hiking route.
Other excellent features include a to-do list, photo upload, and GPS track record. In case of an emergency, you can send accurate locations utilising this app.
Download on Google Play / Download on the App Store
8. TrailLink
TrailLink is a versatile app to discover the outdoors in a better method. Featuring more than 40,000 miles of trails, you can enjoy detailed trail descriptions, photos, reviews, and trail maps. Whether you plan for walking, jogging, or cycling, this app offers great trails to try.
TrailLink is armed with RTC trail database that comes with a unique trail finder. On top of that, it lets you find walking trails that comes with exercise stations and other trails with excellent views. You can enjoy adventure and gain fitness at a time.
Enjoy the best adventure with the best hiking apps above. Most of them are designed to support you discover perfect trails for any outdoor activities, be it best walking app, hiking, or cycling.
Download on Google Play / Download on the App Store
Discover great trails and plan the next adventure with Wikiloc. This outdoor navigation app is loaded with a myriad of outdoor trails global, so you will never feel enough with the adventure. It covers up to 70 multiple outdoor activities, such as hiking, running, mountain bike, and much more.
The best hiking app supports record your route on a map. Besides, you can add waypoints and take pictures for adventure logs. Once you are done, upload to Wikiloc from your smartphone.
For easier outdoor applications, the best hiking app helps offline topographic maps to use without an internet connection. Whether in the mountains or deep forest, this app is reliable for easy and accurate navigation.
Wikiloc is available for free on Google Play Store and App Store. However, if you wish to enjoy more features like weather forecast, live tracking, or advanced search filters, you may need to upgrade to Premium versions.
Download on Google Play / Download on the App Store
10. Map My Walk
Hiking is a great way to dive into a fun adventure and maintain fitness at a time. And if you are looking for the best app for tracking and mapping your workouts, Map My Walk could be the best option. More than 60 million users have this app and now it's your turn.
This app is not specifically designed for hiking, but it works well to be a partner to maintain your fitness. Review your workout performance, so you know your progress. You can additionally track and map workouts during hiking, biking, or another outdoor pursuit.
Find new routes to walk, run, or ride bikes so you can get a new adventure. Just in case you don't have enough time for outdoor activities, you can stay active and healthy at home. Thanks to a collection of workouts curated by professionals.