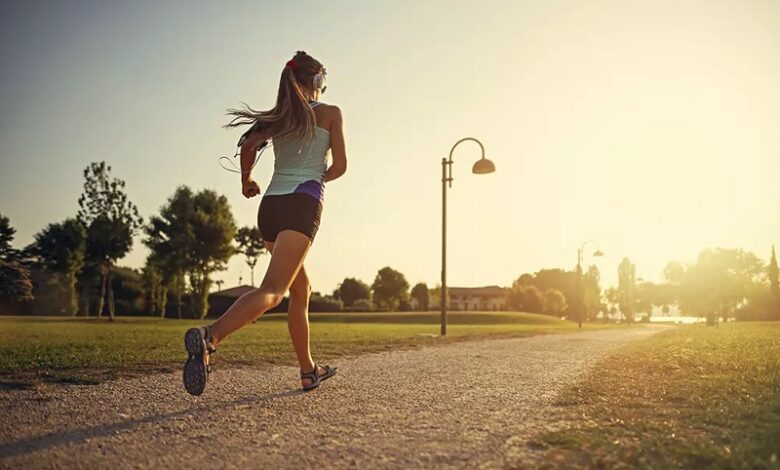 Living a healthy life doesn't have to be costly. While some people may spend their cash on a personal coach who guides, supports, and monitor their progress, the best health coach apps can simplify your budget. As the name suggests, they can be your virtual coach that supports achieve your goal.
Having these apps on a smartphone makes living healthy much easier. You can find activities to improve overall health, track your values, monitor burned calories, and more. Best of all, most of the apps listed below are simple to use and free of charge!
Top 10 Best Health Coach Apps for Android and iOS in 2023

While Google Fit and Fitbit are the most famous apps to promote your best free health apps for android, there are many others to take into consideration. We have sifted through dozens of top health coach apps and find the best applications as listed below. Find your favorite app and begin a healthy life.
1. Samsung Health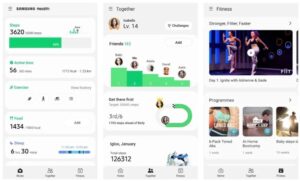 Samsung Health was initially designed for Samsung, but it is also available on the App Store, enabling iOS users to benefit. Millions of users global have taken this health and fitness app, making it one of the most downloaded health coach apps.
This tool enables you to do many things, such as checking health records and adding daily steps or body weight right from the home screen. It additionally helps record your fitness activities and promote healthy eating habits. This is what you expect from a real personal health coach.
Also, you can monitor sleep patterns, improve sleep quality, and provide healthy life challenges to motivate your friends and family. This best free health coach app is additionally packed with videos of expert coaches that help you do fitness programs such as endurance training and weight loss program.
Download on Google Play / Download on the App Store
2. Google Fit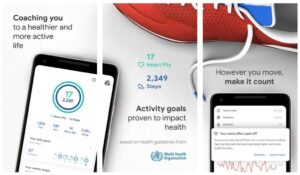 First and foremost, Google Fit is surely the most famous health coach app for Android and iOS devices. In collaboration with WHO and AHA, it supports improving your health through a number of activities for heart and mind.
Collect points for moderate activities like walking your pet or running. It additionally encourages you to take a 30-minute brisk walking five days a week to minimize the risk of heart disease. And Google Fit enables you to track your exercises from a smartphone or smart watch.
Just as with a hired professional coach, it shows your daily progress so you can see how your goals can be achieved. Best of all, it is additionally effective in improving overall mental health. In short, this is your handy coach for a healthier, more active life.
Download on Google Play / Download on the App Store
3. Sanitas HealthCoach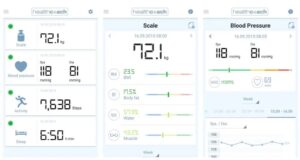 You can trust Sanitas HealthCoach for your health management. This simple-to-use application provides a record and overview of your health measurements, such as blood pressure, body scale, and activities anywhere and anytime. Whether you are at work or on holiday, it lets you track your values.
The easy and beautiful interface makes Sanitas simple to use. It uses beautiful illustrations to display your data informatively, enabling you to read it conveniently. Select to view the data by day, week, or month and see how you progress.
Also, it has a cockpit display that shows the last measured value so you can quickly check on it. If you need a personal coach that keeps tracking your value, Sanitas HealthCoach can be a great option. This app is available on Google Play Store and App Store.
Download on Google Play / Download on the App Store
4. Fitbit Coach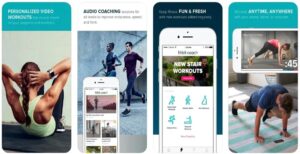 From the same developer as Fitbit, this application is designed to be your trainer. It comes in handy to support you adjust your goal, feedback, and capabilities. Thank you to adaptive workout that allows you to stick to your goal with workout programs made for you.
This one of the best health life coach apps makes workouts comfortable anywhere and anytime. Without having to visit a gym, you can do fantastic workouts at home or in the office. It takes between 7 to 60 minutes that can be adjusted to your situation. If you cannot decide on a type of exercise, get a recommendation from Fitbit Coach.
What's more, this excellent application features customized coaching that offers personalized workout videos. Just like a personal coach, it shows you the movement so you can simply follow it. You can also find tips and motivation that encourages you to achieve your goal.
Download on Google Play / Download on the App Store
5. Personal Training Coach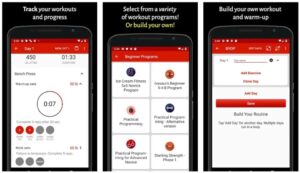 This is one of the best health coach apps to help you shed fat and build muscles. It contains excellent training programs for burning fat, gaining strength, and toning muscles. Having this app on your smartphone is like hiring a personal trainer.
There are many things the app can do. Not only does it let you understand which type of exercise to do, but it additionally tells you how many calories you burn. You can also track your workouts, check your progress, and even create your workout programs.
When it comes to features, Personal Training Coach has much to offer. It integrates with workout programs like Starting Strength and GreySkull. It also allows you to record weight, see progress in graphs, and find exercise descriptions. As a bonus, it is available in a dark and light theme.
Download on Google Play / Download on the App Store
6. NexJ Health Coach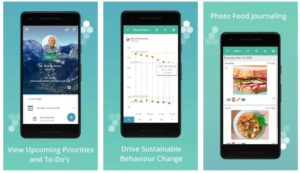 If you wish to connect to healthcare professionals, including health coach, NexJ is the best app to try. This wellness app allows users to manage their condition and improve overall health with the help of professionals. Users are additionally encouraged to create personalized plans to achieve their wellness goals.
In this app, you can track your behavior and biometric information. A professional health coach provides positive feedback and encouragement to address existing problems to reach the goal. This kind of help is important to develop health, both mental and physical.
NexJ highlights a health summary that allows you to upload your medical information and select a professional to access it. The app additionally features a wellness plan that supports track your activity and provides subjective information like symptoms.
Download on Google Play / Download on the App Store
7. Personal Fitness Coach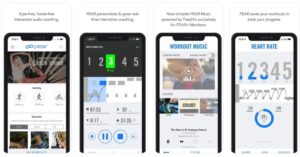 Featuring audio coaching, this app comes with a boast of convenience. Personal Fitness Coach helps shed extra pounds through hundreds of different workouts that can be chosen as your preferences. It enables you to feel like having a personal trainer that helps you to achieve the goal.
In addition to hundreds of exercises, this app features real human coaching rather than robot voices. While video content allows you to do the movement correctly, it can adapt to your performance. That's why it can tell you when to slow down or speed up.
This best health coach app is suitable for users with all fitness levels. On top of that, it comes packed with curated workout packages for your fitness routine. If you are looking for the quickest method to reach your goal, Personal Fitness Coach is surely for you.
Download on Google Play / Download on the App Store
8. Beureur HealthCoach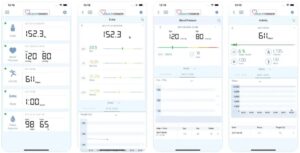 This free health coach app is available for Android and iOS devices. Using this app, you can easily record and monitor your measurements. Not only does it work as a personal coach, but it also serves as a health manager that supports improve your physical and mental health.
Beureur HealthCoach is super simple to use. It allows you to view and track your health values anywhere and anytime without visiting a healthcare provider. You can also check on several aspects such as blood pressure, weight, and activity in one app.
Things are getting better with the attractive illustration that adds visual interest to this app. Viewing your progress has never been this simple! Combined with an easy and intuitive interface, you can get a better experience. Overall, this is a popular wellness app to maintain your overall health.
Download on Google Play / Download on the App Store
9. Fitness Coach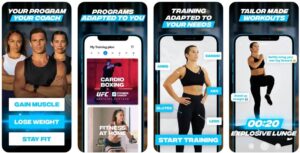 This is your virtual coach to help you with all fitness programs. Whether you want to lose weight, tone muscles, or stay fit, this app has got you covered. It allows you to do workouts at home, in the office, at the gym, or everywhere else. Staying in shape is more accessible with a Fitness Coach.
How it works is quite easy. Set your goal and this app will tailor workouts that suit you according to your fitness level. It provides dozens of sessions of different training and hundreds of exercises to keep you in the best shape. It takes around 30 minutes each day.
What's more, you can take on challenges to motivate yourself. It also provides a device to track your progress every day. Adapt the training to your needs and reach your goal.
Download on Google Play / Download on the App Store
10. Wellness Coach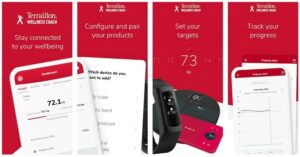 Transform your mobile device into a personal health coach with Wellness Coach. It can do a lot of things, from monitoring your weight to tracking your progress. Syncing this app with a connected bathroom scale enables you to monitor body fat, muscular mass, and weight.
Wellness Coach supports calculate your BMI to identify the potential risk of excess weight. Using this app, you can also manage your diet by providing nutritional information such as carbohydrates, calories, proteins, and more. Scan the barcode of the products and find facts about it.
Increasing your physical activity is getting easier with this app. Set your goals and your coach supports you achieve it. You can track calories burned after the workouts, monitor blood pressure, and improve sleep quality. Use with Terraillon wristband for better monitoring.