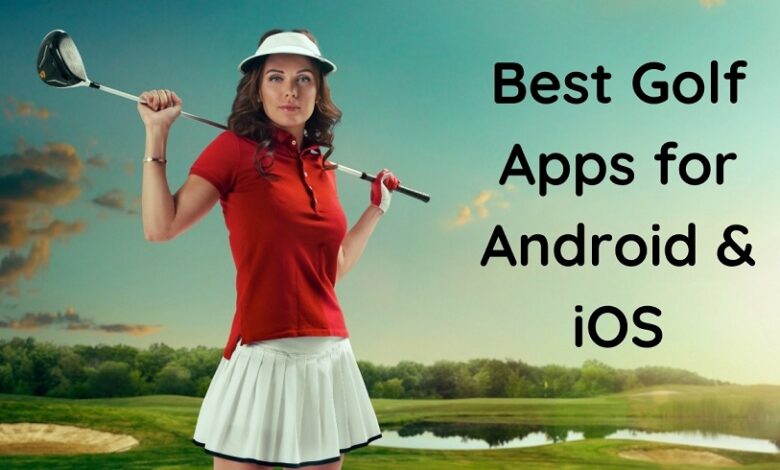 Golf pad is a game that requires skill and strategy. Luckily, so many golf apps for Android and iOS come in handy to improve your skill and understanding. If you need a little support to find the best golf apps, you've come to the right place.
These golf apps are packed with everything you need to understand about golf, such as coaching videos, GPS rangefinder, and many more. Featuring a clean and user-friendly interface, these apps are super simple to use. Get ready to be a pro golfer with the following apps!
Top 8 Best Golf Apps for Android and iOS In 2023

We have compiled 8 best golf yardage applications to install on your smartphone's mobile device. Pick out your popular apps and upgrade your golfing experience!
1. Zepp Golf Swing Analyzer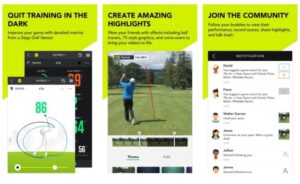 Hone your golf skills with Zepp. This golf app comes with a smart training system to improve fast, enabling you to shoot your lowest round. It has video recognition technology, an innovative feature that automatically captures your swing videos on the course.
Besides capturing and editing swing videos, Zepp lets you share wonderful videos with special effects, such as ball tracer technology, voice-over, and infographic. Now you can share your golf performance with friends or family.
Zepp is available for free on Google Play Store and App Store. This free app features a scorecard, leaderboards, Smart Coach Training System, and automatic video recording and editing. As a bonus, you can share thoughts through Zepp social community.
This app is compatible with Apple Watch and Android Wear. Whether you need to get more features, bring it to the next level with Zepp Sensor. It comes with 3D Swing Analysis and instant swing evaluations. The sensor is required to enjoy the features.
2. Golf GPS 18Birdies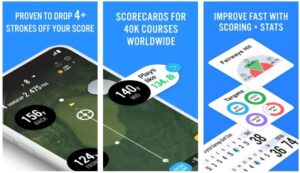 Designed for Android and iOS devices, this golf app supports golfers improve their games. Thanks to game improvement tool that enables you to shoot lower scores and a digital scorecard that lets you track performance and enjoy exciting games.
The 18Birdies can be used as a GPS rangefinder and stat tracker. It additionally comes with many exciting features, such as side games, golf news, and rewards. And if you want to share with friends, this app comes with the ability to share rounds aside from providing detail about local events.
There are many different features to enjoy, like auto hole switching that allows you to get more golfs or tee times that lets you book the next round with more than 6,000 courses available. It also has sweepstakes, enabling you to sweep for your chance at beautiful prizes from top brands.
Upgrade to Premium version to have fun with more features, including blind shot compass and live weather map. The premium features also cover strokes gained to figure out where you are gaining or losing strokes.
3. Golf Live 24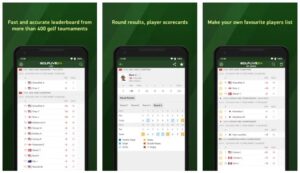 Golf enthusiasts must download this app to keep updated with the new score of golf tournaments. As the name suggests, Golf Live 24 displays live scores, scorecards, and results from over 400 golf tournaments. If you don't want to miss the biggest golf tournaments, this app has you covered.
It comes with many features, such as accurate live golf results and scores, player scoreboards, and round results. Using a tablet, this app helps the full tablet version for a better user experience.
Golf Live 24 has been around for a while and it has been more than 85 million users throughout the world. With capable scoring services, this app keeps you informed. For fans of golf, Golf Live is available on Google Play and App Store.
4. GolfNow: Tee Time Deals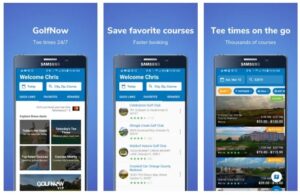 Are you looking for a golf app that has been trusted by million of golfers global? GolfNow app is the best choice to book fantastic deals at golf courses. The free app helps a golf GPS rangefinder, scorekeeping, and post-game analysis to improve your game.
With GolfNow: Tee Time Deals, you can make excellent deals at more than 6,000 golf courses in another countries. It enables you to search Hot Deal and find incredible discounts for the best price. Not to mention it supports GolfNow Rewards to earn points.
Different features to enjoy include booking directly from the app, checking course reviews and ratings, and utilizing your GPS to find golf courses near your position. Thanks to enhanced search capabilities that support golfers find tea time anywhere and anytime.
This golf app saves your credit card information for secure and comfortable booking. It is time to convenient tee time booking with GolfNow. Without the need for calling or waiting, you can quickly book 24/7. This app is available on Google Play Store and App Store.
5. SwingU Golf GPS & Scorecard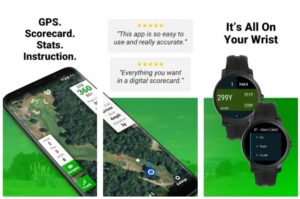 This is a best free golf GPS app rangefinder and scorecard app that boasts top performance. With over 5.5 million users worldwide, this free app is reliable, accurate, and battery efficient. Although it is free, SwingU is not a trial version so you can enjoy a rich array of features.
The app highlights a GPS rangefinder that accurately measures distances on thousands of courses around the globe. Even it lets you know every obstacle, enabling you to arrange strategy for lower boards. A digital scorecard also offers a more accessible track of your putts and scores.
Another thing to get when you download SwingU is accessible handicap right after posting scores for 3 rounds. Featuring stroke play and skins, this app gives a better golf game experience. And if you want to improve skills and knowledge about golf, take benefits from daily instruction from top instructors.
This app is compatible with Apple Watch so you can keep score and measure distances on your wrist. As a bonus, SwingU offers HealthKit features, which have been included to track burned calories. Download this app on Google Play Store or App Store.
6. Hole19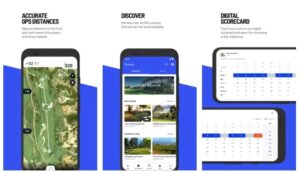 Hole19 is one of the best golf GPS app for android that supports improve your golf experience. This free app offers accurate golf distance app on the course, allowing you to keep your rounds low. Supported with over 43,000 golf courses in 201 countries, this is a must app for every golfer who needs to train smart.
Despite it being free, Hole19 is packed with many features that promise golf improvement. Not only does it provide you with a GPS rangefinder that accurately measure shot distance but it additionally offers a digital scorecard to track your score and save in one place.
If you need to discover the best courses, this app offers course ratings and reviews. You can take benefits from this feature to find a variety of courses that meet your preferences. And whether you like to share on social media channels or community, Hole19 supports sharing feature.
This GPS rangefinder golf app free is compatible with Apple Watch to check GPS distances on your wrist. More advanced features are available if you upgrade to the Premium Pro version. The premium features include match play, augmented reality, handicap simulator, and many more.
7. Albrecht Golf Guide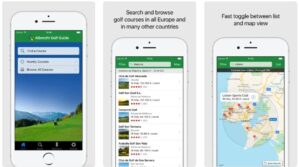 If you are looking for a smart app to browse golf courses, Albrecht has you covered. This app is specifically designed for iOS users to support your search for courses in Europe, enabling you to explore golf courses anytime and anywhere.
This app comes with many features to find the right course, such as searching and browsing golf courses in Europe and other countries, instant results, and finding courses on your surroundings with your device GPS. The Auto-Search function also lets you navigate the map.
For your convenience in finding golf courses, this app lets you know the driving directions. Follow the directions and never get lost. Also, you can call or send an email right from your phone. After having a golf round, write a review and let different golfers know about your experience.
8. Leadingcourses: Golf Courses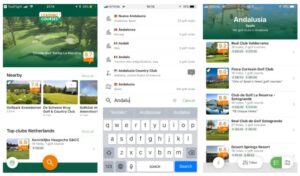 This app is specifically designed to help you find the best golf courses in different countries. As the name indicates, this free app for iOS provides you with in-depth detail about more than 25,000 golf courses in over 150 countries.
It offers all the information about golf courses, but it also supports plan your next round. Despite being free, Leadingcourses is reliable and unbiased to trust golf rounds schedule to this easy app.
How to select the best golf courses with this app? Easily filter and read through the golf courses review available in the app. More than 375 thousand reviews are available—golfers write most reviews. You can additionally browse through course photos to make sure it suits your preferences.
Leadingcourses have more to put on your table. It lets you check green fee rates, amenities, locations, and other information related to golf courses and clubs. More importantly, it supports 8 different languages to avoid difficulties when utilizing this app in different countries.
Those are the best golf apps that give the latest golf experience. Whether you are an Android or iOS user, pick a golf app for android that meets your preferences.