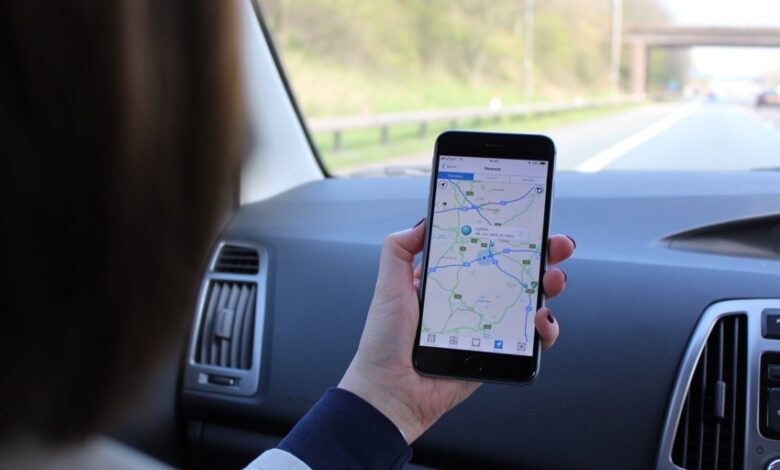 Driving in a strange place can be challenging. The best driving apps below will show you if you don't have enough time to "get lost and find a new experience." These apps are designed to work internationally, allowing you to navigate accurately while driving even if you are abroad.
We have collected trustworthy navigation apps that are useful for international travelers. Whether you want to travel the world for exotic places or business, here are the most recommended applications to install on Android and iOS devices.
Top 8 Best Driving Apps for Android and iOS in 2023

These navigation apps work globally. However, some apps may have better coverage than others, so you would better check their country support before leaving. Make sure the app has complete navigation help to your destination country.
1. Waze
If there are the best options to Google Maps, Waze app free should be on the list. This is one of the best driving apps that provide you with the best routes. It features real time alerts for accidents, traffic, and police, so you will always understand what is happening on your route.
Like Google Maps, Waze lets you know if the traffic is congested and will change the route to save your time. This feature comes in handy if you don't know anything about shortcuts or alternatives routes in strange places.
This best android driving app is also packed with tons of useful features like a speedometer that alerts you whenever you reach the speed limit. Thus, you don't have to get tickets and ruin your journey abroad. On top of that, it features toll costs that let you know toll charges on your route.
And if you wish to listen to some music while driving, Waze review uk has something for you. It is packed with the ability to play music and podcasts so your trip can be more exciting. As a bonus, you can select different voices to guide you on the road.
Download on Google Play / Download on the App Store
2. Here We Go
Here We Go is a different free driving app that is ideal for local and global travel. The navigation app comes with a fresh, simplified design for easier use. No need to worry about getting lost in new territories since this app will guide you.
No matter your destination, Here We Go helps over 1,900 cities around the world. But you get there, be it on foot, take public transportation, or drive a car, and this app provides accurate guidance. You can also save them in collection for easier access in the future.
Just in case you need an extra stop, it allows you to add waypoints to the route. Once you get there, you visit interesting places around the area so you know where to go around the city. Organizing trips is getting easier with Here We Go.
As with its navigation app counterparts, it supports offline mode that enables you to save mobile data. Download the map and search so you can access the map later. Get a real-time update so you don't get lost in a unique place.
Download on Google Play / Download on the App Store
3. Google Maps
Google Maps is unarguably one of the best navigation apps global. It supports more than 220 countries across continents, enabling you to experience accurate navigation everywhere. If there is an application you shouldn't leave without, it must have apps be Google Maps.
How does Google Maps let you get there faster? It features real-time ETAs that enable you to beat traffic better than any other apps. It also allows you to avoid traffic jams since it shows traffic conditions ahead so you can find other alternatives to arrive faster.
This app is all about navigation. Aside from providing you with the best route, Google Maps helps you discover and explore places like restaurants, events, and much more. Furthermore, you can review websites you have visited to help another users.
What's more about Google Maps? It would help if you tried its offline mode that enables you to navigate without an internet connection. And if you wish to view real imagery of streets of places, Street View can be a helpful feature.
On top of that, Google Maps comes in handy for users who use public transportations. It supports you catch trains, bus, or ride-share with real-time information. And the best part is that it is fully free for Android and iOS users.
Download on Google Play / Download on the App Store
4. Komoot
If you want to explore new territories for adventure, Komoot is the best app to install. Even though it is developed in Germany, the navigation app works globally. Whether you need maps and routes in Europe, Asia-Pacific, North America, or Africa, it is suitable for international travelers.
Unlike most navigation apps that show routes for a car drive, Komoot provides you with a route for sport. Be it single tracks, smooth asphalt or cycling path, and it offers a perfect plan for a new adventure. Thanks to detail maps that include distance, terrain surface, elevation, and more.
Stay focus on your track with turn by turn voice navigation. You will hear the navigator directs you without interruption so you don't have to keep checking on your smartphone. Whether you are on smooth asphalt or small trails, Komoot is ready for navigation.
This one of the best driving apps for android also helps offline mode for adventure. Quickly download the outdoor track and save the maps so you can access it without an internet connection. This is one of the best features for outdoor adventure, just in case the signal is lost.
And if you love to share, Komoot lets you tell stories of your adventure. Thanks to adventure logs that keep your journey along with photos. Share with your community and inspire fellow adventurers.
Download on Google Play / Download on the App Store
How about installing the world's most downloaded GPS navigation on your devices? Sygic has been trusted by over 200 million drivers worldwide, thanks to offline GPS navigation that lets you search and navigate without an internet connection.
The best free driving apps for android has everything you need to drive safely in strange places. The offline map helps all countries in the world with free map updates per year. While driving, Sygic's voice navigation will direct you to get there quicker and safer.
Among key features to enjoy, Sygic supports you find a plethora of interesting places. And if you want to take a stroll instead of driving, this navigation app offers pedestrian GPS navigation so you can appreciate new places in a better method.
To keep you safe driving apps for android, Sygic navigation app is loaded with protection features that make driving in strange places more comfortable. Speed limit shows the current speed limit so you won't get a ticket. Dynamic Lane Assistant is also embedded to guide you to drive in the correct lane.
Download on Google Play / Download on the App Store
Specifically made for cars, RV, and trucks, CoPilot is a great way to enjoy a safe and time-efficient trip. This app is ideal for daily drivers and those who live on the road. It has been trusted by million of drivers worldwide, thanks to powerful features that help improve your productivity.
If you are a daily car driver, CoPilot provides you with 3 routes to select from. You can also avoid congested traffic with real-time traffic and an automatic rerouting feature. If you are a truck driver, CoPilot supports avoid low bridges to keep you out of trouble.
So you just arrived in a new place and are not able to activate the mobile signal. CoPilot still works to navigate your trip, thanks to offline map support that ensures a convenient drive without an internet connection. Quickly download the map of the region and you're ready to go.
Download on Google Play / Download on the App Store
Magic Earth lets you drive in new territories without worry. This is one of the best driving apps to find the best route to get there. Offline mode is among key features that allow search and navigation without an internet connection.
The powerful app enables you to find the best routes for driving and hiking, biking, and public transportation. Save a lot of time and arrive faster with accurate navigation from Magic Earth. Supporting more than 233 countries, this is among the few apps that work globally.
This navigation app highlights three types of map views, including 2D, 3D, and Satellite. Pick a picture of your preference and get accurate, turn by turn navigation. You can also find a nearby parking lot to park your free car driving without worries.
When driving in new places, make sure you take the right lane. Luckily, Magic Earth will let you understand in advance which lane to take. Thanks to lane support that prevents you from getting a ticket. As a bonus, it offers a weather forecast that lets you view local temperature and weather forecast.
Download on Google Play / Download on the App Store
8. Android Auto
How about taking a trip with a smart driving assistant? Android Auto is a versatile app that lets you stay focused while driving, thanks to a voice assistant. Say OK Google, you will be able to route your destination, get updates on route, and even check the calendar.
To keep you entertained, this app features an infotainment system that can be used for listening to favorite music via Spotify, Pandora, Google Play Music, and much more. It also allows you to send and receive messages with Google Assistant to stay focused on the road.
Furthermore, Android Auto apps uk comes with an easy and clean interface for easier access while driving learning app. It additionally has large buttons so you know where to tap without being distracted.
The best driving apps above are worth the download, especially if you plan to go abroad. Those find my car apps work globally so that you can use them in different regions.