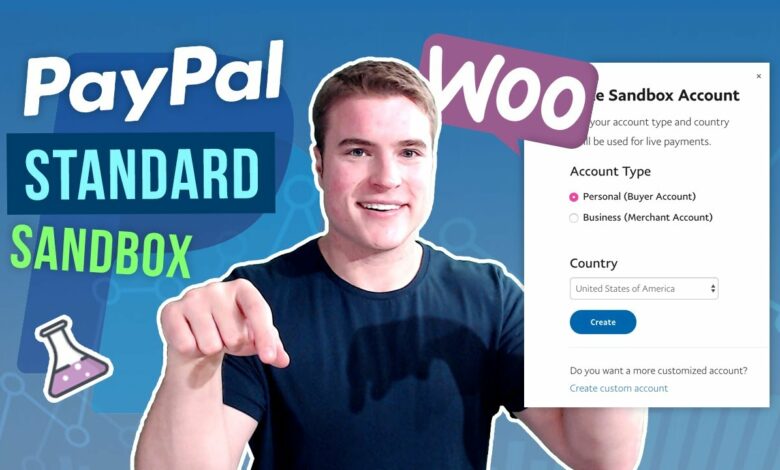 Before going live, let's test PayPal and your new website thoroughly. If you created a user-friendly interface, it would be helpful. Many of us tested the testing using our personal PayPal accounts. You purchase fraudulent goods and then try to get a refund on them.
However, there are drawbacks to this, of course. Sandbox accounts from PayPal are a great substitute.
In this tutorial, the benefits of sandbox accounts will be discussed. Additionally, we'll create how to design sandbox settings for both personal and business use.
What Are PayPal Sandbox Accounts?
A PayPal sandbox account will not be displayed in your company's primary PayPal profile. It has:
PayPal's authentication details (email address and password)
examining credit card details
Verify the Test Bank's Bank Account Information Details.
This feature allows test reports to be automatically emailed out following each activity performed using the
test accounts. We can be sure that everything is operating effectively in this way.
The tool is quite helpful. The PayPal account for your company can be used to manage all testing accounts from a single location. There is only one account to keep track of as a result. It's actually just a portion of your main report that doesn't actually transmit or receive any money.
When Should You create a PayPal Test Account?
You might make it's OK to use your own account for test, but doing so has a lot of drawbacks.
Your personal PayPal data might not be something that your team needs to have access to. Or you may force them to make their tests using their personal PayPal accounts. Therefore, employing a sandbox environment improves the security of a business's account.
Using live accounts while testing could be a sizable administrative challenge. They'll appear as legitimate purchases that call for a refund on the back end.
Sandbox accounts are more reliable for testing various scenarios. With sandbox credentials, you may test out various payment flows using any of PayPal's accepted payment options.
In any situation where the technology fails, a sandbox account is helpful. Think of a situation when a client contacts you to say that PayPal is having trouble processing their payments. To test real-world transactions at any moment and quickly identify any problems, use the sandbox accounts.
Creating a Demo Account in PayPal Sandbox
Enter your PayPal for Business account login information. This is the account linked to the online payment gateway for your company.
After signing into your account, open a new tab in your browser.
Enter developer.paypal.com in the search field of the new window. Press the enter key.
On the left sidebar, there is a section titled "Sandbox." Here, click "Accounts."
Your profile on the sandbox accounts page will list all of your active, live accounts from PayPal. If no accounts have been set yet, a large blue "new account" button will show up in the top right corner. Probably a good idea to click it.
Prior to using PayPal, you must choose an account type. Are you interested in a sandbox account for yourself or your business, in other words? Tracking these forms of traffic separately and jointly can help you gain a complete view of your consumers' online buying preferences. It might, however, only apply to select people. It is possible to thoroughly test your payment gateway by setting up both sandbox accounts.
Choose the nation from which to make your test account. With this, you should make your pertinent clients.
Similar to this, sandbox foreign currency accounts can be used to test sending money abroad.
Click the "Make an Account" button to get started.
Once your PayPal account is set up, you can test your payment processing using the test transaction data that is provided.
To access the sandbox account as if it were your actual account dashboard, follow these steps.
Visit sandbox.paypal.com if you like.
Enter your login details there to access the sandbox environment. To put it another way, those are just a makeshift email and password for a test account in a sandbox.
When you click this button, you will be sent directly to your user interface. The dashboard will appear personal regardless of whether the sandbox account is for a person or a business.
Lessons Discovered
Using a sandbox account, you may test your PayPal payment gateway under real-world conditions. You can unwind after making that PayPal is operating properly on your website.