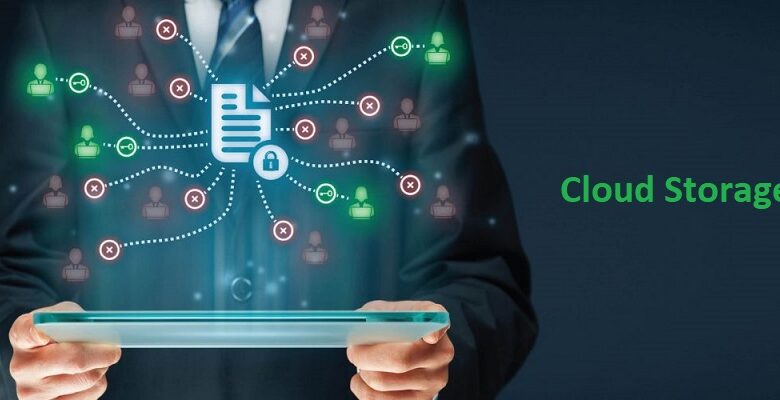 According to Statista, by 2021, the cloud will have stored about half of all corporate data worldwide. That's because cloud storage is one of the most handy and simple techniques for storing and retrieving data online via the internet.
In this article, we'll go over what cloud storage is, how it works, and what the benefits are for businesses who use it.
What Is Cloud Storage?
What is cloud storage, precisely? Cloud storage, in a nutshell, is a system which involves cloud computing to store and retrieve data from an off-site server through the internet or another private network. The third-party provider becomes liable for all of the data and files you send.
Google Drive, Microsoft Azure, and Amazon's AWS are some of the most well-known cloud service providers.
These tools offer your business with flexible, on-demand, and low-latency access to your data from anywhere in the world at any time.
How Does Cloud Storage Work?
Let's look at how cloud storage works now that you know what it is. Cloud storage stores all of your data in remote data centres with a master and control server. All of these servers are linked and can be employed according to your business's needs and cost.
By handling the management, security, and operation of those data centres, the service provider removes the headaches.
What Are the Benefits of Using Cloud Storage?
Each provider has its own set of advantages and disadvantages. But, the following are the main benefits of cloud storage for most business owners:
Easy of Use and Access
To use cloud computing and storage, you don't need to be an expert. Most providers have simple user interfaces and a slew of useful features, such as drag-and-drop file uploading.
You may access your files from anywhere in the world as long as you have an internet connection and a mobile device.
Save Money
Many cloud storage providers provide pay-as-you-go or cost-effective solutions to suit any business's budget. In fact, several businesses have found that moving to cloud storage can save them 30% to 40% on total costs of ownership (TCO).
One of the most large expense advantages is that you won't have to invest in an expensive data storage infrastructure that may be too huge (or small) for your requirements. In addition to the initial expenditure, there are costs involved with maintaining and operating an in-house server.
These costs are reduced with cloud storage. The service provider will take that responsibility, allowing you and your team to focus their time, effort, and resources on what matters most.
Improved Security
The bulk of cloud storage providers provide enhanced security through encryption and redundancy. Make sure the company you choose uses data encryption for files and information that are stored at rest and in transit to you or other users.
Redundancy protect your data by keeping it on multiple servers. With redundancy, data will not be fully lost if there is an issue or a data breach.
The Ability to Scale Up (or Down) as Needed 
Additionally, cloud provides greater scalability and flexibility. During peak seasons, you can quickly upgrade to get more data storage, or downsize if your needs alter. There's also no need to relocate any of the data you've already saved. It will stay inside its present location.
Final Thoughts
The use of cloud storage and computing has exploded in the last decade, and it's only getting bigger. Whether you're a single freelancer or the CEO of a large corporation, cloud storage can help you. Cloud storage is likely to become more common as more data is uploaded to the internet.