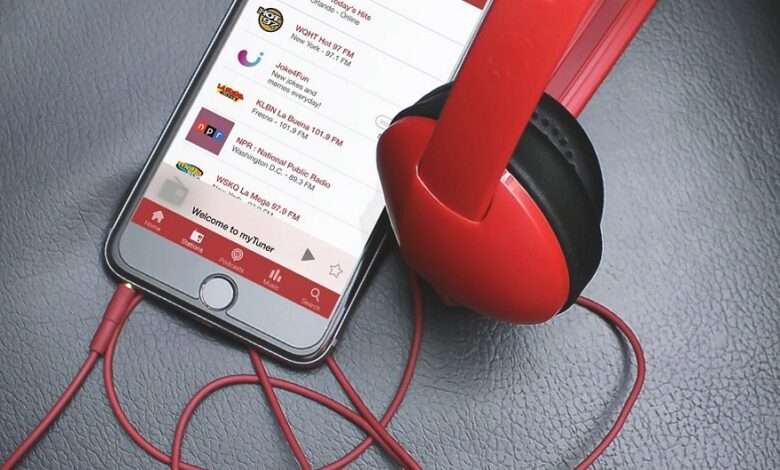 iPhone Radio apps are used to listen to music, talk shows, and interviews. Due to growth in technology and multiple music streaming platforms, Radio apps' usage has been reduced drastically. Still, some radio stations and channels have survived. Now, we need the internet and data to listen to music online. However, some of the best iPhone radio apps provide access to stream local radio channels without the internet. Generally, iPhones don't have an inbuilt radio app. So we have to access the third-party apps. On the App Store, you can find tons of best iPhone radio apps offering other features. Among them, we have chosen and listed out the best 10 apps that let you hear all local radio channels or stations on your iPhone with or without the internet.
Best iPhone Radio Apps for Live Sports, News, Music & Podcasts
Best iPhone Radio Apps

Wondering how to listen to local radio stations on the iPhone? iHeartRadio is the best app to access. You can discover and listen to tons of local AM and FM radio stations. You will get access to stream popular sports radio stations like Fox Sports Radio, ESPN Radio, FNTSY Sports Radio, and many more. By downloading your favourite podcasts from the App Store, iHeartRadio lets you stream them in offline mode. Whether Tennis, Golf, NFL, NHL, Soccer, or whatever it may be, iHearRadio lets you visit updated with the latest news related to all sports. It offers two subscription plans: iHeartRadio Plus ($5.99) and iHeartRadio All Access ($12.99).

TuneIn Radio is one of the best free radio apps free for the iPhone. It brings you to live sports, news, music, podcasts, and internet radio from all around the world. You can listen to your favourite channel anytime and everywhere. You can find radio channels from nearly 197 countries. TuneIn has a good sound top-quality, and an amazing interface to navigate and browse. It is additionally available for Android devices.
XiiaLive

 Best iPhone Radio Apps

XiiaLive is one of the best radio apps to have uninterrupted radio streaming. You can listen to several talk shows, podcasts, and more. It features nearly 50,000 stations from all around the world. You can add a channel to your favourite list for simple access. You can find the recently played channel by navigating to your history. It is the perfect app to use while exercising, walking, driving, and on many more occasions.

Audials Radio features nearly 100000 radio stations and 260 000 podcasts from other parts of the world. It is the best app to listen to local stations without any price. The application is easy to use, and all the channels are categorized on a Country basis for better navigation. You can use the built-in recorder to record your favourite shows to stream them later, even in offline mode.

NPR One is the different best place to listen to local public radio stations. The abbreviation for NPR is National Public Radio, which is a purveyor of award-winning journalism. It streams public radio news, stories, talk shows, and podcasts. You can find your favourite radio station by easily searching its name in the search bar. Like different radio apps, you can add a channel to your favourite list.
SiriusXM

 Best iPhone Radio Apps

SiriusXM has about 300+ channels, which include talk shows, sports, comedy, and podcasts. It is a premium application and offers other subscription plans like Premier, Select, and All Access. Depending on the subscription plan, the channel lineup and the total number of channels will vary. Get access to popular sports radio stations like Fantasy Sports Radio, MLB Network Radio, ACC Radio, Big Ten Radio, NBA Radio, and more extra.

Pandora is a famous streaming platform for music and local radio stations. You can search for any radio station that you want and listen to it immediately. By subscribing to its premium plan, you will get access to ad-free radio streaming on your iPhone. Currently, Pandora is free only in the US, and the makers are planning to launch the service all around the world in the feature. You can customize the streaming experience by choosing six other modes. It also helps streaming four local stations in offline mode.

myTuner is another famous app that streams 50,000 local radio stations from 200+ countries. You can additionally listen to internet radio stations and podcasts available. myTuner is available for free with advertisements. You can delete the advertisements by unlocking the premium plans, which start at $0.99/week. The stations are categorized on a genre basis, and one can find their favourite channels with ease.
RadioApp

 Best iPhone Radio Apps

RadioApp is a simple radio application just with a tuner and a music player. It gives you a feeling of using a radio in the olden days. Users need the tuner to listen to the station they want. It has a different dynamic frequency slider. It supports multiple countries and detects the local stations in your area automatically. The offers three other subscription plans: Monthly ($2.49), Premium ($14.990, and Premium Lifetime ($39.99).

RADIO.COM is a radio application where we can stream live sports, music, news, and podcast. It has more than 100 radio stations and 15,000 podcasts. With Airplay and Bluetooth's support, you can hear your favourite station on a smart speaker with ease. It is one of the many apps which offers a massive collection of news and talk radio stations. By getting access to famous sports stations, you can stay updated with all the news related to your favourite team and sports.
These are the 10 Best iPhone radio apps that we recommend you to use for listening to local radio stations on the iPhone with or without iPhone. Our editorial team individually tests these apps, and they will provide a better streaming experience. If we have missed an app that deserved to be on this list, mention it below.