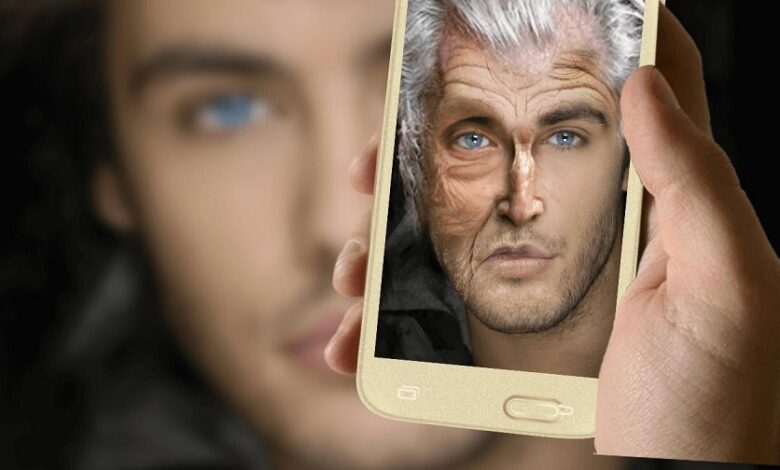 Top 10 It's fun to see how you look like in your old age. Thankfully, dozens of companies and startups have been developing age progression apps that support figure out your future look. App Store and Play Store are flooded with them, so you might need to put more effort into finding the best age progression app.
Most excellent age progression apps come with the ability to transform your face from young to old age or vice versa. To make it more fun, the apps enable you to share on multiple social media platforms. Check this out for the usually recommended age progression apps for Android and iOS.
Top 10 Best Age Progression Apps for Android and iOS In 2023

How to select the best age progression tool? Some indicators can be used, including user-friendly interface, features, and ratings. Here are the top 10 most suggested age progression apps to download on your mobile phone device based on those criteria.
1. AgingBooth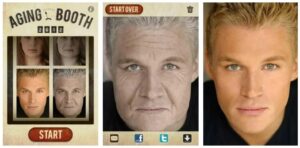 See how you will look best like when you are old with AgingBooth. This app is the best machine to age your selfies, wefies, and even family photos. To make it more exciting, share the results with your family and friends through email and social media platforms such as Twitter and Facebook.
Knowing your future face is fun! Aside from aging app your photos, this age progression photos app offers a handful of devices to transform your face. Select one or more effects from Booth Collection and be surprised. Besides, it enables you to select only one face among many others in the same photo. And best of all, AgingBooth can work offline.
A user-friendly interface makes it simple to use. If you want to compare before-after photos, all you need to do is shake the device. Also, you can work with pictures from the camera or gallery and save the results to the photo library. AgingBooth works best for faces between 15 and 60 years old.
Download on Google Play / Download on the App Store
2. FaceApp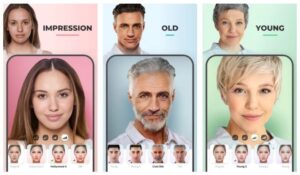 With more than 100 million downloads on Play Store, Face App old face is one of the most popular age progression tools ever developed. This free app boasts artificial intelligence to produce selfies with the best magazine-cover quality. Have fun with astonishing transformations like gender swap, hair styling, and most importantly, age changing.
FaceApp helps with tons of features and improvements, including impression filters, makeups, add tattoos, and multiple transformations. You can also add smiles and apply effects like color filters, lens blurs, and many more. If you want to change the background, quickly tap on it.
With FaceApp, your selfie is never the same again. Whether you want to try a fresh hairstyle or grow a mustache and beard, this app helps you figure out how you will look. FaceApp with AI can be downloaded for Android and iOS for free. For additional content, this app offers in-app buying.
Download on Google Play / Download on the App Store
3. Fantastic Face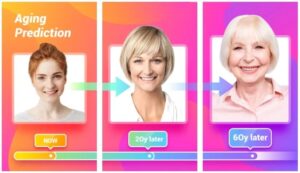 Next on the list there is Fantastic Face downloaded more than 10 million times on Play Store. It is more than a face-changing tool that converts your face to be younger or older. It can analyze your facial features and make a report according to it. From this report, you will know the secrets of your face.
Fantastic Face comes packed with a set of features and functionalities. Its main functions include daily face analysis, age prediction, baby prediction, and emotion analysis. You can additionally have fun with a smile competition and beauty competition brought by this app. Or, find out celebrities who have similar facial features as yours with the Celebrity Match feature.
This versatile app has many different things to enjoy, such as love pairing that supports you figure out the chance to fall in love and a palmistry predictor that predicts your future career and fortune. Enjoy the app and know yourself!
4. What Will I Look Like Old Face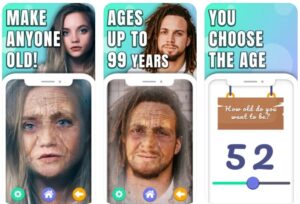 You don't need to wait until 80 to see your old face. This face app is developed to help you figure out how you will look like at a certain age. Choose how old you want to be and this app will convert your photo. It works for any images from the gallery and camera, so you make anyone old with a single tap.
This app analyzes facial features and creates old photos. Supported by artificial intelligent, it can tackle most of your photographs. Try it on friends, family, and yourself, and choose how old you want to be. Like another similar app, it is very easy and simple to use. Upload your photo and tap to convert. It will show you the result within seconds.
What Will I Look Like faceapp Old Face provides a variety of aging app old people filters. Choose one that you like the most and save the result. You can additionally share via social media networks and collect more likes than you think! Make sure to use the only front-facing photo for the most accurate results.
5. Make Me Old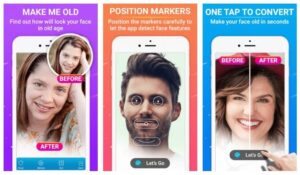 If you seek out an easy age progression free online app, Make Me Old is worth your consideration. Like other similar apps, it lets you transform a face from young to old or reverse. Despite the fact that it is not equipped with artificial intelligence, it comes with advanced portrayal technology that makes the result look real.
Make Me Old works with a face scanner that supports identify your face and convert it. Besides, you can also add funny stickers and position markers for more accurate results. Once you're done, share via social media platforms. With this app, you can scan all faces including family members, friends, or even your favorite artists.
How does it work? This app is pretty simple to use. Open the camera, scan your face and the app will show your future face. For the best result, Make Me Old enables you to strengthen your eyes and slim it. Download the app for free on your Android device and have fun with your photos.
6. Oldify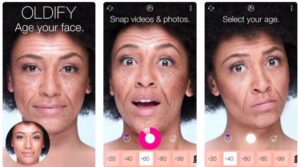 Oldify is another fun app to know how you look in old age. Thanks to a simple and intuitive interface that enables users to discover their ageing faces quickly, it is very comfortable to use.
A variety of key features are wrapped in this exciting age progression software device. It comes with automatic face detection that scans your face and converts to older age. With face adjustment, you can adjust the actual position using the available marker. When everything is ready, a single tap will make your face look old. How if you want to switch it back? Simply shake the device to switch back and forth once your photo is converted. Would you please save it to a device or SD card? Or share your old photos with friends through different social media platforms.
7. Age Recognition App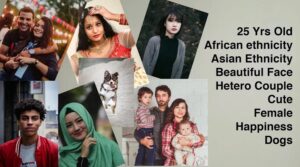 This is an interesting face app old that comes with tons of exciting features. Age Recognition App has a face scanner that can identify not only age however also feelings and ethnicity. Besides, this app can figure out your status, sex, situation, and much other information.
The Age Recognition app is helpful if you want to find out anyone's information. Simply upload or snap a photo of your friend, family, or crush and let this app do the rest. Within a few seconds, you will figure out their approximate age, status, feelings, ethnicity, and many more.
What's more? This best age progression app offers a number of key features, including a camera button, scanner apparatus, user-friendly interface, and brain analysis. All is wrapped in a versatile app that can be downloaded for free.
8. Make Me Old Photo Montage Editor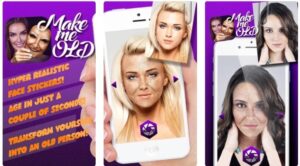 With 3.0 ratings on App Store, this app transforms your photo and makes you look 30 years older. It offers a face ageing camera effect that helps convert your face within seconds. This is a useful app you are looking for, so you don't need to find other apps for your iOS.
What can this app do? You can create a montage with attractive face stickers and edit photos with a face changer. With cool camera stickers, you can manipulate a photo and make it awesome. To get started, upload an image from your smartphone and you are ready to go!
In addition to features, this tool makes selfies and photos look realistic with new cool photo effects. For every photo you have edited, share on social media platforms like Facebook, Twitter and Instagram. The app is available for free, but you can get more contents with in-app buying.
Which best age progression apps do you like the most? Whether you are bored with ordinary photo editors or want to prank friends, these face apps offer lots of fun. Figure out how your future face looks like with age progression app and share with others!
9. Face Story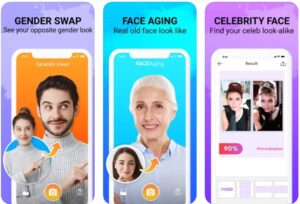 This is a face swap and ageing app that is popular among iOS users. Coming with a couple of dozens of features, it lets you use photos differently. Whether you want to figure out how you look like in different gender or when you get old, Face Story has everything you need.
Add wrinkles and change hair color to make your face look a few decades older. Or, find your celebrity twin and share with family and friends. After getting the result, enhance your photo by adjusting the layer, filter, brightness and many more. Everything can be tackled within seconds.
Not only can you swap gender and age photos, but you can also crop a photo using face detection. It also enables you to process the transformation with ease. Face Story is very simple to use, so anyone with no editing skill can easily handle the project. This app can be installed for free with in-app purchases. However, it also provides a subscription that starts from $4.99 per week or $49.99 for a lifetime.
10. Face Cam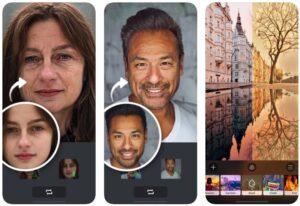 iPhone and iPad users can utilize this app to have fun with front-facing photos. With 4.0 ratings on App Store, Face Cam boasts artificial intelligence technology for more accurate face swaps. It additionally comes with art filters that allow you to enhance photos with various effects, such as watercolor paintings, drawings, oil paintings, and many others.
To use the face swap feature, you need to import two photos from the gallery or directly from the camera. Once imported, use old face filters to see how you look like a few decades to go. Interestingly, you can use a variety of stickers to make your photo more attractive.
To make your photos look convincing, Face Cam lets you add wrinkles and turn your hair grey. All of these can be done without an internet connection. More importantly, this app does not store your photos so your privacy is protected.