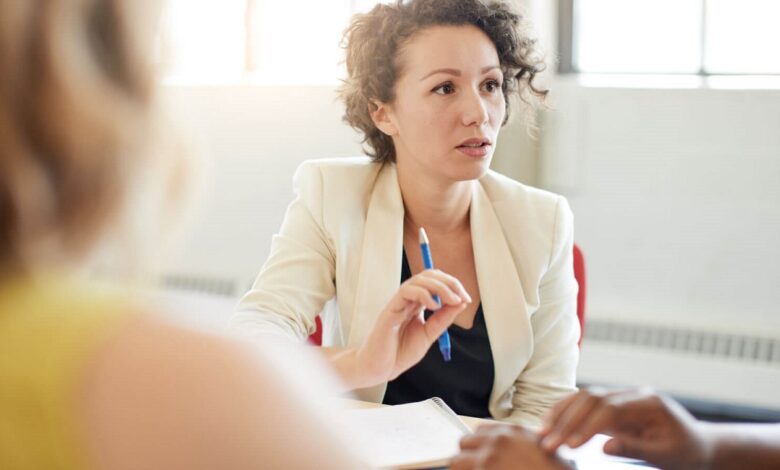 An interview with the hiring manager is a vital step in the hiring process. If you are an introvert, it can be difficult to manage things at first, but don't worry, if you are skilled and have knowledge relevant to the job, you are half way there, and to cover the other half, we recommend that you read our tips to impress the hiring manager. So, without further ado, let's get started.
7 Tips to impress the hiring manager during an interview
What are hiring managers looking for during interviews?
Hiring managers want to know how much a candidate is worth. The hiring manager asks questions about your previous work, whether you completed it or not, by asking a series of questions. During the interview, you must maintain your cool, calm, and self belief. To impress the hiring manager, you must provide correct answers in a timely manner.
Interviewers are looking for evidence that you can perform well on the job. They want to see specific examples of how you completed projects or dealt with challenges successfully in the past.
Hiring managers also want to know if you will fit into the new company's culture. They look for evidence that you understand and value the company's values and mission.
The hiring manager is going to test your analytical and reasoning skills by asking questions. You can impress them by providing proper examples and figures in response to their questions.
Having said that, here are some points of reference you demanded.
Tips to impress the hiring manager during an interview
1. Good looking resume
Your resume is the first thing a hiring manager looks at. At a glance, he or she should be able to tell you are well educated and qualified for the position. Your resume should also show where you have worked previously and your achievements while working for that company.
If a manager notices a great resume, your chances of being called for an interview rise. If you don't know how to make a resume, you can use online resume builders, which provide templates that you can simply select and edit.
2. Knowledge of the company
It is crucial to study the company for which you are applying. If your interviewer knows you've done research on what they do and how they do it, he or she will think highly of you.
This demonstrates that you value your career, which makes a positive opinion on the hiring manager.
So, before the interview, do some research on the company and its competitors to see what they have to offer. This will help you to impress your interviewer when he or she asks you questions about this information.
3. Gets to the point
While it is important to impress a hiring manager with your qualifications and job knowledge, it is not a good idea to spend a lot of time in the interview. Because most hiring managers will only give you a few minutes, be direct and answer all questions quickly and succinctly.
If there is something you don't know about or haven't done, try not to lie about it because if they hire you and then discover you were lying during your first week of work, they will probably fire you right away.
4. Display confidence
Your chances of getting the job rise exponentially if you prove confidence as well as knowledge of what will entice an employer to hire you. It demonstrates not only that you have what it takes to do the job, but also that you believe in yourself, which is advantageous to hiring managers. Moreover, you must once again prove that you are humble enough to listen carefully and learn new things.
5. Being on time
Arriving late for an interview is never a good idea, irrespective of how experienced or qualified you are for the position. If they decide to hire you based on your resume, company knowledge, and confidence during the interview, but then discover that you were late for your appointment, they will most likely not consider you again.
Hiring managers frequently make decisions about people based on first impressions, and these decisions are sometimes final. So, keeping all of the above tips in mind before going to an interview could make it easier and increase your chances of getting hired.
6. Being attentive and listening
Hiring managers usually give their interviewees an idea of what the job entails and what they will be doing on a daily basis. Kindly do not interrupt them as they explain this to you.
Allow them to finish explaining before asking any questions, because if you come across as someone who is uninterested or does not listen well, the hiring manager may not want to work with such a candidate.
Listen carefully and ask pertinent questions, such as how your role will fit into the larger picture within the company, why previous employees left, and how long it will take for you to make an impact.
7. Asking questions
In order to impress the hiring manager, ask relevant questions that demonstrate that you have done research on the company and its competitors and understand what they do. If you do not, prove your interest in learning more about their industry and how it works.
Conclusion
Create a great 1st impression and a lasting impression can be very beneficial in job interviews. The clothing you wear to the interview, as well as your body language and punctuality, are usually used to form first impressions.
Making a good first impression involves impressing the interviewer with your knowledge of their company as well as your confidence and eagerness to learn new things.
All of these recommendations will increase your chances of being hired by a company. It also improves your chances of being offered the right type of position within a company, which will benefit your career.